5 Minutes With - Thom Petersen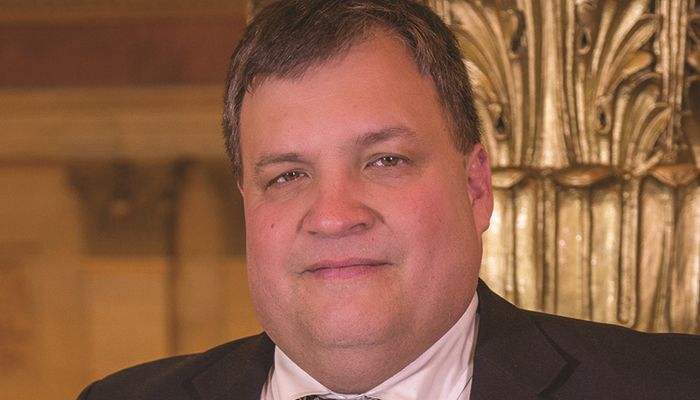 Thom Petersen refers to himself as Minnesota agriculture's "head cheerleader." As the commissioner for the Minnesota Department of Agriculture, he works with a $100 million-plus annual budget and 500 employees to oversee agriculture regulations, promote Minnesota agriculture around the globe, and run a high-quality lab that ensures the integrity of our food supply. First appointed by Governor Tim Walz in 2019 and unanimously confirmed by the Minnesota Senate for a second term in 2023, Petersen shares what the state's farming community means to him, both professionally and personally.
Q: Did you always want to pursue a career in agriculture?
A: My grandfather instilled a love of agriculture in me. I live just a few miles from his farm, where he was a dairy farmer growing corn and hay. More than 20 years ago, I started working in government relations for the Minnesota Farmers Union in Washington, D.C., and St. Paul. I had known Governor Walz for a long time, and he gave me the opportunity to serve as his ag commissioner. I love farming and I love politics. I lucked out and got a job that combines the two of them. 
Q: What are the most rewarding and challenging parts of your job?
A: My favorite part of the job is getting out and traveling the state to meet with farmers. No two farms in Minnesota are alike. Everybody does something a little different, and you really have to see that firsthand to understand. I've been proud as commissioner that I was confirmed unanimously both times by Democrats and Republicans, and that our agricultural budget bill that the Minnesota Farm Bureau works on with us is probably one of the few bills that passes every year with a bipartisan vote. Trying to find that middle ground gets harder every day, but it's something I feel strongly about striving toward. 
Q: What are some of the biggest challenges facing Minnesota farmers today?
A: We have very high beef and crop prices right now, and very low dairy and pork prices. I always try to level the playing field so farmers have a decent chance to make a living—whether it means working on our regulations, promotion products and trade, or creating markets for our farmers. Also, people really want to know how their food is produced, so telling the story of farmers is becoming more important.  
Q: Why is the agriculture industry so important to Minnesota?
A: Minnesota has 5.7 million people and 67,100 farm families. Those families do a lot to push our economy. Agriculture is 25 to 30% of the state's GDP, and we produce a lot of top crops. We're number one in turkey and sugarbeets. 
Q: How is farming a part of your home life?
A: I live on a horse farm near Pine City. For many years, horses were my life. I trained, showed, and bought and sold a lot of horses. Today, it has become more of a hobby. We have five miniature horses, which is a fun niche to be involved in. It gets me to a lot of county fairs and the State Fair, where I show with my sons, Dylan and Waylon.  
Q: Outside of farming and agriculture, what are you passionate about? 
A: I have a massive baseball card collection that I've had since I was a kid. I used my baseball card collection to help finance the down payment on my first farm. I had very valuable cards and had to come up with $6,500 within a week. It was a sacrifice, but over the years, I've bought some of those cards back.
Thom's Favorite
PODCAST - The Moos Room from the University of Minnesota Extension
AUTHOR - Ronald Eustice, a Minnesota farmer who writes about farming and agriculture around the country
BASEBALL PLAYER - Harmon Killebrew of the Minnesota Twins