At the Capitol: April 10-14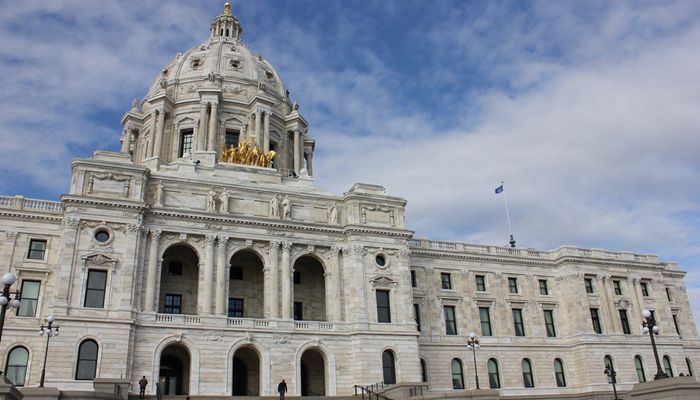 Each week during the Minnesota legislative session, the Minnesota Farm Bureau will highlight its work with elected officials to support our members and agriculture. While we advocate for our members on a wide variety of topics, our Board of Directors set six priority issues for the 2023 state legislative session, and our efforts to advance those issues are highlighted below.
Recap: Week of April 10-14
Our public policy team and leadership has been connecting with elected officials and other policy influencers to share our member's stories, and build relationships to reinforce our position as a leader in agriculture issues in Minnesota.
Here are the bills that moved through this week:
S.F. 1955 (Putnam) The Senate Agriculture omnibus finance bill passed through the Finance Committee and moved to the Senate floor, where the bill passed on a 58-7 vote. MFBF submitted written comments for the Senate Finance hearing and can be found here. 
The Senate bill includes provisions in line with MFBF priority issues that our policy supports including: voluntary soil health programs, biofuel infrastructure grant funding, meat processing investments, funding for the Agriculture Emergency Account and Veterinary Diagnostic Laboratory, investment into new and emerging farmers and funding for mental health services. The bill also includes $100 million in general fund dollars for broadband.
A conference committee will be needed to iron out the differences in the House and Senate bills.
H.F. 2310 (Hansen) The House Environment and Natural Resources omnibus finance bill was heard and passed through the House Ways and Means committee. The bill was amended to include the House Climate and Legacy omnibus bill. The bill is scheduled to be heard on the House of Representatives floor on a later date.
When this bill was heard in committee, MFBF testified on the bill expressing opposition to the following pieces of the bill:
The drainage registry information portal. This should be vetted by drainage stakeholders at the Drainage Working Group to foster mutual understanding of how the proposed registry will operate and be used. Further conversation needs to be held to determine how the registry will impact drainage system operations, particularly the maintenance of existing drainage systems.
The Minnesota Pollution Control Agency Citizen Board. This would establish a citizen board to have authority over the decisions of the commissioner at the Pollution Control Agency.
Provisions impacting crop protection tools, such as creating and instituting policies for the proper use and disposal of neonicotinoid pesticide.