Brad Hennen Named AFBF Ag Innovation Challenge Finalist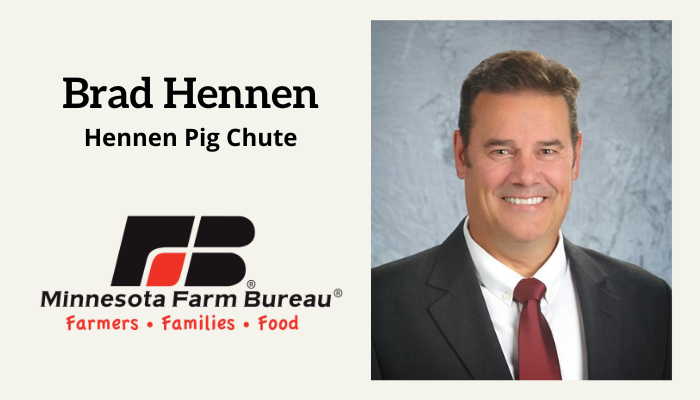 The American Farm Bureau Federation (AFBF), in partnership with Farm Credit, recently announced the 10 semi-finalists in the 2022 Farm Bureau Ag Innovation Challenge, and Brad Hennen of Ghent was named one of the finalists.
Hennen, creator of the Hennen Pig Chute, developed the product to help improve the accuracy of the swine vaccination process. He will receive $10,000 for advancing as a semi-finalist and have the opportunity to travel and pitch his product at the annual AFBF Convention, held Jan. 6-9 in San Juan, Puerto Rico. He will also participate in pitch training and mentorship from Cornell University's S.C. Johnson College of Business faculty, and network with representatives from the U.S. Department of Agriculture's Rural Business Investment Program throughout the fall. 
The 10 semi-finalist teams will compete to advance to the final round, where the final four teams will receive an additional $5,000 and compete live in front of Farm Bureau members, investors and industry representatives for the title. 
Other finalists from across the country include: 
Atlantic Aquaculture Technologies, Massachusetts. Team lead: Daniel Ward
Emgenisys Inc., Texas. Team lead: Cara Wells
MycoLogic LLC, Georgia. Team lead: Chris Cornelison
NORDEF, Kansas. Team lead: William Walls
ReEnvision Ag, Iowa. Team lead: Jayson Ryner
Symbrosia, Hawaii. Team lead: Alexia Akbay
TrackerSled, Illinois. Team lead: Lawrence Kearns
TreadSure, Nebraska. Team lead: Ethan Steinberg
Vence, California. Team lead: Ben Veres
The Hennen Pig Chute provides a way to more accurately, and with relative ease, deliver an injection to pigs. This accuracy leads to less stress on the pigs and the people, less needle breakage, more effective disease control, better management of dosage of vaccines, and less workman's compensation claims. It is adjustable for pigs from 10 up to 50 pounds.
The competition provides an opportunity for individuals to showcase ideas and business innovations in agriculture. This is the ninth year of the competition, which was the first national business competition focused exclusively on rural entrepreneurs launching food and agriculture businesses. Learn more at https://www.fb.org/land/ag-innovation-challenge.