Burger Night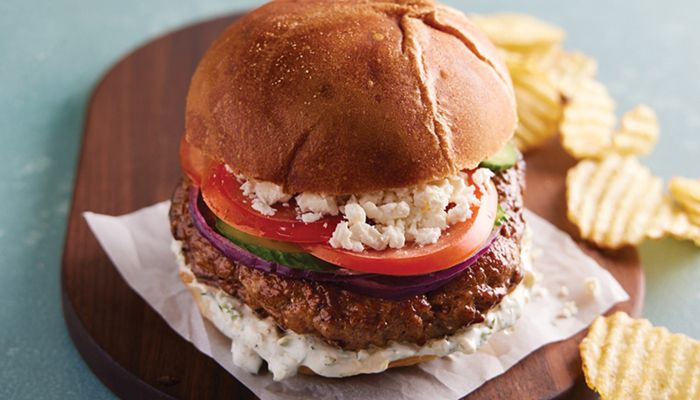 Looking for a twist on a traditional burger? Upgrade your cookout fare with some new flavors by switching up the protein, cheese and adding a flavorful sauce—such as a tzatziki. These Greek-style lamb burgers are juicy and easy to make. The recipe comes from Minnesota Farm Bureau member Amanda Cook. 
Grilled Lamb Burgers with Tzatziki Sauce
Makes 8, ¼-pound burgers
Recipe by Amanda Cook
Burger patties
2 pounds ground lamb
Kosher salt to taste
Freshly ground black pepper to taste
8 burger buns 
Tzatziki sauce
I cup Greek yogurt
3 Tbsp. fresh dill, finely chopped
1 tsp. lemon zest
1-2 Tbsp. fresh lemon juice
¼ cup cucumber, minced
1 tsp. garlic, minced
1 tsp. kosher salt
Freshly ground black pepper to taste
Prepare Tzatziki sauce: Combine all sauce ingredients in a large bowl, then whisk to combine. Set aside and refrigerate until needed.
Prepare lamb burger patties: Divide the ground lamb equally into 8 portions (¼-pound patties). Shape into flattened rounds and press your thumb into the middle of each. Prior to cooking, season each patty with kosher salt and freshly ground black pepper on both sides.
Cook lamb burgers: Preheat a grill. Cook each burger patty for 5 minutes per side, or until an internal temperature of 150°F is reached (for medium). Rest burger patties for 3 minutes before serving. After resting, spread Tzatziki sauce on buns and place burger on top of the sauce.
If desired, personalize the burgers with additional toppings like sliced cucumbers, feta cheese and kalamata olives.