Caramel Apple Muffins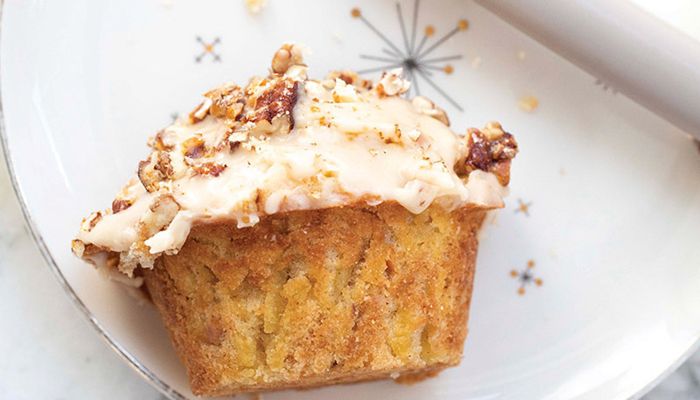 Makes 8 muffins
MUFFINS
1 ½ cups all-purpose flour
1 ½ tsp. baking powder
½ tsp. ground cinnamon 
¼ tsp. baking soda
¼ cup apple cider, at room temperature
¼ cup sour cream, at room temperature
8 Tbsp. unsalted butter, at room temperature
¾ cup granulated sugar 
½ tsp. salt
1 large egg, at room temperature 
1 Tbsp. applejack brandy (optional)
1 tsp. pure vanilla extract
1 cup grated Gala apples 
ICING
3 Tbsp. caramel, homemade or store-bought
1 to 3 Tbsp. apple cider
1 Tbsp. unsalted butter, melted 
½ tsp. pure vanilla extract
Pinch of salt
1 cup confectioners' sugar
1 cup candied pecans 
For the muffins
Position an oven rack in the middle of the oven and preheat the oven to 375°F. Line a standard 12-cup muffin tin with liners or grease them. 
In a small bowl, whisk together the flour, baking powder, cinnamon and baking soda. In a medium bowl or liquid measuring cup, whisk together the apple cider and sour cream. 
In the bowl of a stand mixer fitted with a paddle, beat the butter on medium speed until creamy, 1 minute. Add the granulated sugar and salt and beat again on medium speed until light and fluffy, 3 to 5 minutes. Add the egg and beat on low speed until incorporated, scraping down the sides of the bowl as needed. Beat in the brandy, if using, then the vanilla. Scrape down the bowl again and add one-third of the flour mixture. Continue beating on low speed until just combined. Beat in the apple cider mixture and the remaining flour mixture in halves, alternating between the two and ending with the flour mixture, mixing until just combined. Add the grated apple, and then mix until just incorporated into the batter, 30 seconds. 
Scoop 1/3 cup of the batter into the prepared tin; the batter should fill the cups and slightly mound in each cavity (using a scoop works best here to help the tops mound). Bake until a skewer or toothpick inserted into the center of a muffin comes out with a few crumbs, rotating the pan halfway through baking, 20 to 24 minutes. Let the muffins cool in the tin for about 5 minutes, then gently remove them and transfer to a wire rack to cool for 10 minutes. 
For the icing
While the muffins are cooling, make the icing. In a medium bowl, combine the caramel, 1 tablespoon of the apple cider, the melted butter, vanilla and salt. Add the confectioners' sugar and mix until smooth, adding more apple cider, 1 tablespoon at a time, until the desired consistency is reached. The icing should be thick but pourable. Drizzle the icing over the top of each muffin, and sprinkle with the candied pecans. 
Muffins are best eaten the day they are made, but they can be stored in an airtight container in the refrigerator for 2 days.