Cargo Capital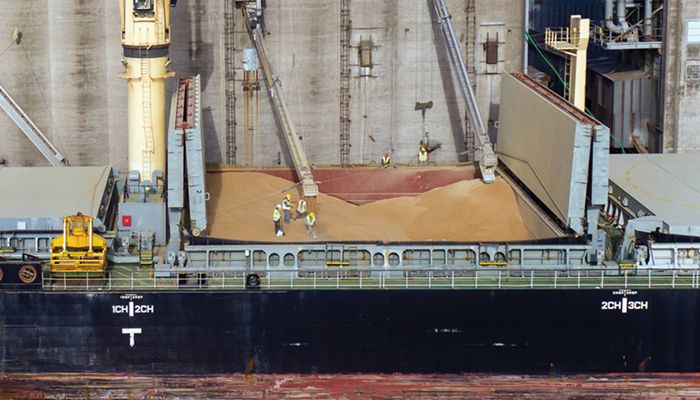 For CHS, the Port of Duluth- Superior is a gateway to the world. 
First opened by the farmer cooperative in 1936, CHS's Duluth-Superior facility now comprises 504 concrete silos and 15 steel tanks, with a total storage capacity of about 18 million bushels. The facility is served by two Class I railways, BNSF and Canadian Pacific, which bring in railcars laden with spring wheat and durum wheat, along with occasional deliveries of canola and flax, from all across North America. Historically, CHS has exported about 60% of the grain it handles to markets including North Africa (primarily Algeria and Morocco), Italy, Spain, and the U.K. The rest it puts on rail for shipments across the U.S. 
The advantages of the Lake Superior port? "For local producers, it's location," says Dan Vandenhouten, the CHS terminal operations manager in Duluth-Superior. "It allows that grain to flow quickly from the field to an outbound ship. Within 24 hours, it can be on railcars anywhere from North Dakota, South Dakota, or Minnesota to this port area."
As the country's most inland international port, Duluth-Superior can provide Midwestern ag shippers an alternative to transporting their commodities by rail to crowded coastal ports. The port hopes to take advantage of the opportunity that the current supply chain snarls are offering. 
An Underutilized Option 
When most Minnesotans think of the Port of Duluth-Superior, they picture large, long ore boats carrying taconite pellets used in steel mills south of the Great Lakes. (Though many refer to Duluth and Superior as the "Twin Ports," the Duluth Seaway Port Authority represents the interests of the entire port and advocates on behalf of both sides of the harbor.) And it's true that grain isn't the port's biggest cargo—it typically makes up between 3% and 5% of the port's total annual tonnage. 
But Danny Munch, economist at the Washington, D.C.-based American Farm Bureau Federation, believes that the Duluth-Superior port is "underutilized." Its proximity to productive growing regions in the Upper Midwest means that it's "much less susceptible to disruptions," he says, whether the grain or beans or other commodity comes into the port via rail or truck. Even with Covid fading, "we still have a lot of supply chain issues," Munch notes. In a report on grain shipments by rail that he put together in March, he uncovered reports of "more than 16,000 unfilled orders a day or more overdue every week—75% of those orders are still 11 or more days overdue. And this is concentrated especially in the Upper Midwest." 
Last year, much of that supply chain disruption also was due to water-based transport. New Orleans handles more than 90% of the corn and soybeans that move on U.S. inland waterways. In 2022, drought lowered the level of the Mississippi River, causing shipping rates to jump over 2,200% over the normal tariff rate. Meanwhile, in years prior, the big ports on the coasts were clogged. "There were a lot of stories of agricultural exporters not being able to get products outbound," Munch says. Shipping through Duluth-Superior "can help relieve supply chain pressures when we have disruptions like this." 
One challenge Munch sees for the northern port: regular access to open shipping space. When it comes to waterborne transit, these shippers are usually "filling returned empties from other products that are often higher-value," he says. These include wind turbines, which are then sent by truck to wind farms throughout the region. "There aren't always boats specifically going to Duluth to get grain," Munch notes. "If we can somehow incentivize and create an environment" where ag exporters can realize the port's value, "I know our farmers can fill up those boats." 
Growing the Port
Attracting more ship space for exporters is one of the tasks that Kate Ferguson, the Duluth Seaway Port Authority's director of trade and business development, always has near the top of her to-do list. "We're trying to bring in as much business into the Great Lakes as possible so that we can have the bottoms to go outbound," she says. "We're trying to build and create new transportation supply chains for our customers to provide alternatives." Is Duluth-Superior underutilized? "The Great Lakes-St. Lawrence Seaway system is underutilized, period," Ferguson says. "We could double the movements in and out of our system and not need additional infrastructure to handle it." 
About 80% of the agricultural commodities shipped out of Duluth-Superior are exported, primarily to Europe and North Africa. The predominant agricultural products are spring and durum wheat–the latter particularly prized by Italian pasta makers–as well as sugar beet pulp pellets used in livestock feed. It also handles what Ferguson terms "once-in-a-while commodities," including soybeans, pulses, flax, canola and sunflower seeds. 
Over the past 10 years, Duluth-Superior has experienced a dip in agricultural shipments. CHS's Vandenhouten notes that before 2020, the cooperative shipped out 40 to 50 million bushels annually, number that have dipped in the last few years. The reason? Market dynamics. "We have seen better production from U.S. wheat-growing areas such as Minnesota, North Dakota, and South Dakota," he says. "But that hasn't necessarily translated into increased shipping activity," as buyers look to cheaper wheat in Canada and elsewhere.
Ferguson notes that despite the drop, the tonnage exported "didn't shift that much 2022 over 2021. That means primarily what we lost last year was domestic grain." (Duluth-Superior's sole domestic market comprises the grain mills in Buffalo, New York.) She cites several reasons why ag exporters should consider Duluth-Superior. In addition to being "uncongested" and providing access to five elevators, the port connects to four Class I railways, typically transporting grain and other products from the Upper Midwest. Transport via the Great Lakes-
St. Lawrence waterway system "is cost-competitive when the timing is right in the global market," she adds. 
According to the Minnesota Department of Agriculture, the state is the fourth-largest agriculture exporting state in the U.S., bringing in $9.3 billion a year while accounting for more than a third of Minnesota's total exports—a massive increase from 2000, when ag exports were just $2.2 billion. 
Dan Glessing, president of the Minnesota Farm Bureau, sees even greater potential for the Port of Duluth-Superior. "Rail is an effective method of transport, but water is the cheapest, because you can float a lot of cargo without a lot of friction," he says. But Glessing also notes that using the port needs to be more consistently cost-effective for ag shippers because "we're competing on a global market."
The Port of Duluth-Superior's role as an export hub for Upper Midwestern agriculture is evidence that farmers and ranchers rely on sound infrastructure to get their products from the field to processing facilities. The Minnesota Farm Bureau is consistently advocating for the maintenance and improvement of transportation infrastructure, from highways to railways and port facilities. In November 2021, the American Farm Bureau Federation supported the Infrastructure Investment and Jobs Act, which included $110 billion for roads and bridges and $17.3 billion for ports and inland waterways.
A New Export Option: Containers
Ferguson acknowledges that there are "some internal cost pressures on the Great Lakes that many grain shippers in the port point to as problematic." Case in point: federal requirements that foreign-flagged vessels have a U.S.-registered pilot on board when navigating certain parts of the Great Lakes. "This can be a very high cost when you're looking at a low-priced commodity," she says. 
Another major factor affecting the competitiveness of the entire St. Lawrence Seaway system, including Duluth-Superior, is that it can't accommodate large container ships. While Duluth-Superior can't compete with the large coastal ports in terms of vessel size, "the ship size we can have in the Great Lakes maximizes the match between origin and destination," Ferguson says. 
Last year, the Port of Duluth-Superior made a significant infrastructural investment by opening a new facility for smaller container-vessels. "Containerized ag is a huge opportunity for us," Ferguson says. This year, the port has added a regular monthly liner service between Duluth and Antwerp with Dutch shipping company Spliethoff. According to Jayson Hron, the Port Authority's director of communications and marketing, this export option could provide "consistency and reliability for potential grain shippers." 
The first agricultural shipper to use the new container facility was Menominee, Wisconsin-based Chippewa Valley Bean, which sent 200 containers of kidney beans—a large quantity of which were grown in Minnesota—to buyers in Europe. CHS's Vandenhouten says that the container facility "is definitely something we'd consider using. CHS has had initial conversations with the Port Authority about this opportunity. It has the potential to provide additional value to our farmer-owners." 
For instance, he says, containerization could allow Midwestern farmers to ship identity-preserved commodities such as wheat out of Duluth-Superior to overseas buyers seeking products specifically from the region. In addition, those export customers would be able to buy in smaller quantities. "That would provide a differentiated supply chain for agri-exports in the region," Vandenhouten says. "It's great going to Costco, but not everybody needs to buy 10 pounds of bananas. Sometimes you're fine with two or three." 
CHS has continued to invest in its Duluth-Superior facility, spending more than $35 million in improvements since 2000. Vandenhouten notes that the Duluth Seaway Port Authority has actively engaged with farmers and agricultural shippers "to better understand who we are and what our needs are. And that can help them leverage some infrastructure investments" such as the port's new maritime container facility. That, in turn, could help open even more doors overseas for Minnesota farmers.
Through the Years
A look back at the Port of Duluth-Superior's proud place in history. 
Pre-1800s
The bay is used by native people for hunting, fishing, dwelling and trade. 
Early 1800s
French-Canadian fur trading emerges at the turn of the century. A trading post is established near what would become the city of Duluth. 
1830s
The fur trade declines. Commercial fishing intensifies. 
1840s
Geologists and surveyors begin arriving to explore the area's timber, mineral and agricultural potential. 
1854
The tiny village of Duluth forms one year after the founding of Superior City, Wisconsin. 
1855
The first locks open at Sault Ste. Marie, Michigan, opening Lake Superior to commercial development. 
1858
The harbor's first lighthouse is lit at Minnesota Point. Harbor improvements begin.
1870
Duluth welcomes its first train arrival on the newly completed Lake Superior & Mississippi Railroad.  
1871
Duluth Ship Canal opens. The first shipment of bulk grain departs from Duluth's first grain elevator.  
1918
Shipbuilding booms in the port. It ranks only behind New York and Philadelphia in total cargo tonnage shipped. 
1920s
Duluth harbor emerges as a distribution hub for automobiles on ships from automakers in Detroit. 
1942
The port plays a crucial part of America's war effort, transporting a then-record 74.3 million short tons of cargo during the 1942 navigation season.
1953
Total single-season tonnage exceeds 77 million short tons, a record that  still stands.
1959
The St. Lawrence Seaway opens to deep-draft navigation, allowing ocean vessels to sail from overseas ports to Duluth-Superior.
The Port of Duluth Superior
A by-the-numbers look at America's farthest-inland freshwater seaport. 
2,342 miles from the Atlantic Ocean
49 miles of harbor frontage
20 Privately owned bulk cargo docks
4 Class 1 railways the port connects to that transports grain and other products from the Upper Midwest
~80% of the agricultural commodities shipped out of Duluth-Superior are exported, primarily to Europe and North Africa