Favorite Greek Farro Salad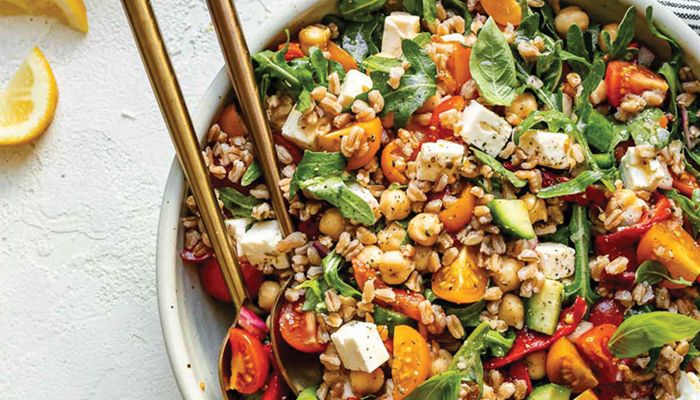 Serves 8–10
This Greek Farro Salad is versatile! Serve it hot or cold. 
INGREDIENTS
For the Salad
3/4 cup farro, rinsed well
1 lemon, juiced
1/2 medium red onion, finely diced
8 ounces cherry tomatoes, halved or quartered
3 mini cucumbers, diced (about 1 ½ cups diced)
6 ounces roasted red pepper, drained, rinsed, patted dry and diced
6 ounces feta, patted dry and cubed or crumbled
1 14-ounce can chickpeas, drained and rinsed
5 ounces baby arugula
Kosher salt and ground black pepper, to season
For the Greek vinaigrette
3 Tbsp. extra virgin olive oil
2 Tbsp. red wine vinegar
1/2 lemon, juiced (about 1 Tbsp. juice)
1 clove garlic, finely chopped or grated
1/2 tsp. Dijon mustard
1/2 tsp. dried oregano
1/2 tsp. kosher salt
Ground black pepper and crushed red pepper flakes, to taste
INSTRUCTIONS
Cook the farro: Bring a large pot of water to a boil. Once boiling, season with 1 teaspoon kosher salt. Add the farro and boil 25–30 minutes, stirring occasionally to prevent sticking, until your desired al dente texture is reached. Drain and immediately rinse with cold water. Set aside to drain well.
Veggie prep: Meanwhile, as the farro cooks, prep the remaining ingredients starting with the onion. Place the finely diced red onion in a small bowl and squeeze the lemon juice over the top. Stir to combine and set aside as you prepare the remaining ingredients. Slice the tomatoes, dice the cucumbers, and roasted red bell pepper. Once all of the ingredients are prepped, drain the lemon juice from the onions and discard. 
Make the Greek vinaigrette: Combine all listed ingredients in a small bowl or jar. For a little kick of heat, sprinkle in a little crushed red pepper flake. Whisk or shake to combine. Taste and season with additional kosher salt or ground black pepper as desired. Set aside, or store in the refrigerator for up to 1 week. 
Assemble the farro salad: To a large bowl, add the farro, red onion, tomatoes, cucumber, roasted red pepper, feta, chickpeas and arugula. Pour the simple Greek vinaigrette over top. Toss to combine. Taste and adjust seasonings as desired.