Ginger Orange Carrot Bread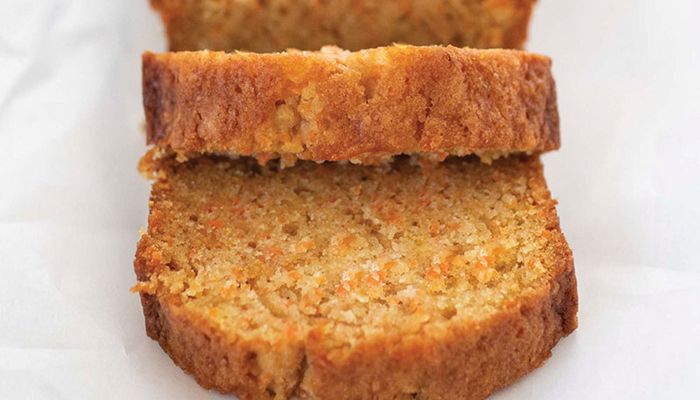 Makes one 12-inch tea loaf or one regular 8-inch loaf
? cup vegetable or canola oil
¾ cup granulated sugar
¼ cup brown sugar
2 large eggs, at room temperature
1 ½ Tbsp. ginger paste or grated ginger
1 Tbsp. grated orange zest
1 Tbsp. triple sec (optional)
¾ tsp. baking powder
½ tsp. baking soda
½ tsp. salt
1 ½ cups all-purpose flour
2 cups peeled and finely grated carrots 
Position an oven rack in the middle of the oven and preheat the oven to 350°F. Grease a tea loaf pan (12 x 4 inches) or a regular loaf pan (8 x 4 inches) and line with a parchment sling (see note below). 
In a large bowl, whisk together the oil, granulated and brown sugars, eggs, ginger, orange zest, triple sec (if using), baking powder, baking soda and salt until completely combined. Add the flour, whisking until just combined. Add the carrots, stirring until incorporated. 
Pour the mixture into the prepared pan and bake until a wooden skewer or toothpick comes out clean, rotating the pan halfway through baking, 45 to 60 minutes. Transfer the pan to a wire rack and let the bread cool for 15 minutes. Use the parchment sling to remove the bread from the pan, peel off the parchment paper and finish cooling on the wire rack before serving. 
The bread can be wrapped in plastic wrap and stored at room temperature for up to 2 days, or in the refrigerator for up to 4 days.