Governor Walz Proclaims Agriculture Day in Minnesota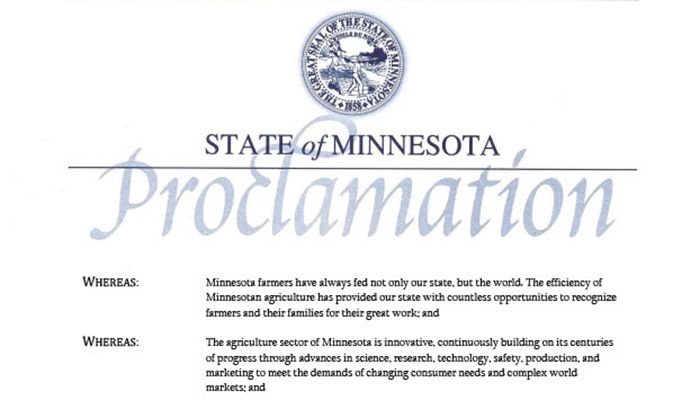 Minnesota Governor Tim Walz and Lt. Governor Peggy Flanagan have declared March 22, 2022, Agriculture Day in Minnesota.
"We are thrilled that Gov. Walz has brought the attention of the state to today's celebration of Agriculture Day in Minnesota," said Minnesota Farm Bureau President (MFBF) Dan Glessing. "This recognition is just one of many that reinforce the important role, and value of, farming and agri-business in our state every day."
The proclamation will be presented by Minnesota Commissioner of Agriculture Thom Petersen at the inaugural Ag Day Gala, hosted by the Minnesota Farm Bureau Foundation, on Tuesday evening at the Green Acres Event Center in Eden Prairie.
Agriculture, agri-food, forestry and related industries in the state contribute more than $37.1 billion to the state economy, and 1 in 10 Minnesotans are employed in the industry. Minnesota leads the nation in red kidney bean production, sugar beet production and turkeys raised.
Statistics provided by the 2020 Minnesota Economic Contribution of Agriculture and Forestry Study