Grilled Apple and Smoked Gouda Sandwich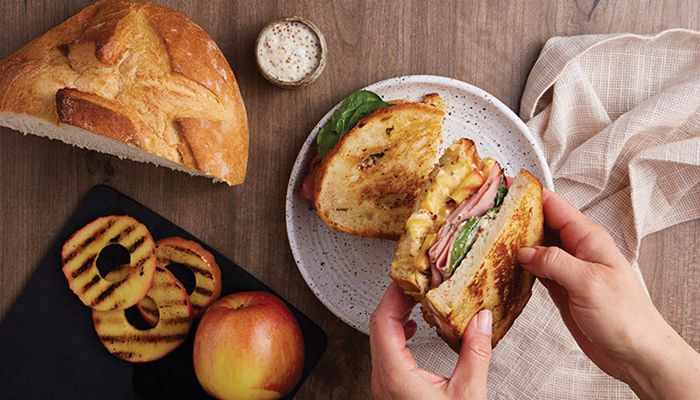 Fresh and colorful ingredients take a classic grilled cheese sandwich to the next level. In this recipe, Honeycrisp apples are sliced and grilled until tender. Thick pieces of sourdough bread hold together melty smoked gouda, garlic, ham, spinach and whole-grain mustard. Mix and match your favorite ingredients.  
Serves 4  
2 medium Honeycrisp apples, cored and cut
1 Tbsp. olive oil
1/3 cup mayonnaise, divided
3 Tbsp. whole-grain mustard
1 clove garlic, finely chopped
8 thick slices sourdough bread
½ pound thin sliced, cooked smoked ham
1 cup spinach
4 ounces smoked gouda, shredded
Heat coals or gas grill for direct heat. In a medium bowl, toss apple rings and olive oil until well coated. Place apple slices on grill. Cover and grill over low heat 2 to 4 minutes, turning once, until crisp-tender; remove from grill. 
In a small bowl, mix 1/4 cup of the mayonnaise, whole grain mustard, and garlic; set aside.
Spread one side of each bread slice with the remaining mayonnaise; spread the mustard mixture on other side. On each of the 4 bread slices, mayonnaise sides down, layer cheese, apple, ham, spinach and remaining bread slices, mayonnaise sides up.
In a hot skillet, heat sandwiches 2 to 4 minutes or until cheese is slightly melted and bread is browned. Turn sandwiches over; heat 2 to 4 minutes longer or until cheese is melted and sandwich is golden brown.
Tip! If your Gouda cheese is difficult to shred, place the cheese in the freezer for 20 minutes to firm up before shredding.