Inaugural Ag Day Gala Celebrates Minnesota Agriculture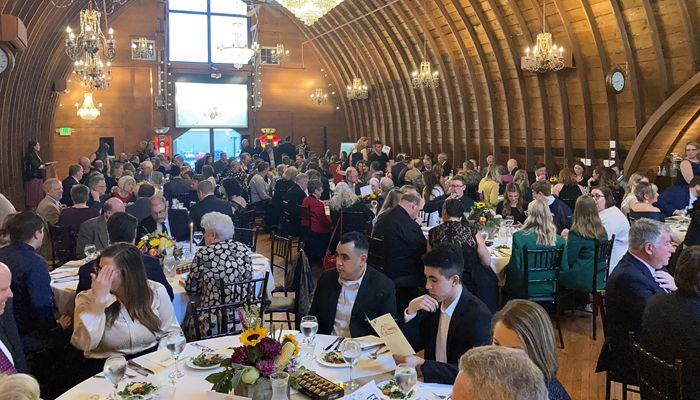 The Minnesota agriculture community came together for the Inaugural Ag Day Gala, hosted by the Minnesota Farm Bureau Foundation, on March 22 at the Green Acres Event Center in Eden Prairie. 
The evening celebrated the diversity of Minnesota agriculture, recognizing its strong past and bright future. During the program Foundation Director Ruth Meirick highlighted how everyone in attendance represents one link in a special chain that unifies agriculture in this great state, and by working together we can continue to strengthen and support each other. This was displayed beautifully by the variety of those involved in Minnesota agriculture who were in attendance.
Thank you to all those who joined us, and we look forward to seeing you at next year's event. 
A special thank you to all of our sponsors who helped support this great event: Compeer Financial, Minnesota Corn, MN Soybean Research & Promotion Council, Minnesota Soybean Growers Association, Minn-Dak Farmers Cooperative, American Crystal Sugar Company, Red River Valley Sugarbeet Growers Association, Southern Minnesota Beet Sugar Cooperative, Enbridge, Farm Bureau Financial Services, Chisago County Farm Bureau, Minnesota Beef, Kowalski's Markets, Minnesota State Fair, Syngenta US, AgCountry Farm Credit Services, Christensen Farms, Hennepin County Farm Bureau, Independent Community Bankers of Minnesota, Minnesota Department of Agriculture, Nicollet County Farm Bureau, RDO Equipment Co., Riverview, LLP, University of Minnesota Twin Cities, Washington/ Ramsey County Farm Bureau