MFB PAC Releases 2022 Endorsements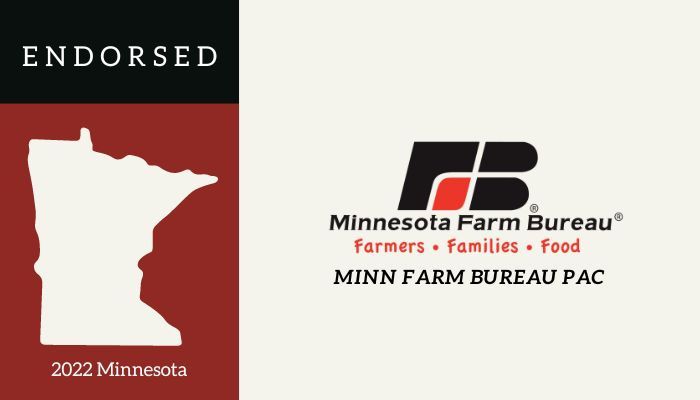 The Minn Farm Bureau Political Action Committee (MFB PAC) recently announced its candidate endorsements for the upcoming 2022 state legislative elections. Additionally, the Minnesota Farm Bureau Federation Political Action Committee (MFBF PAC) announced candidate endorsements in federal races.
PAC endorsements are based on a candidate's support of MFBF policy. Candidates participate in interviews with Farm Bureau members across the state, who in turn make recommendations to the State PAC Committee to make a final endorsement decision. 
"The MFBF PAC Committee endorsement process is an important step in engaging with candidates for political office," said Committee Chair Ray Johnson. "These endorsements help us to understand candidate viewpoints on key agricultural issues as we look ahead to the election in November and provide insight on how our farmers and ranchers can connect with candidates to help them understand the issues." 
The PAC Committee is comprised of county Farm Bureau members from across the state. The MFB and MFBF PACs are voluntary and do not receive financial support from MFBF membership dues.
The MFB PAC endorses the following candidates in state races:
Minnesota Senate 
1: Mark Johnson
2: Steve Green
3: Grant Hauschild 
5: Paul Utke 
6: Justin Eichorn 
7: Robert Farnsworth
9: Jordan Rasmusson
11: Jason Rarick 
12: Torrey Westrom 
13: Jeff Howe 
14: Tama Theis 
15: Gary Dahms
16: Andrew Lang
17: Glenn Gruenhagen
18: Nick Frentz
19: John Jasinski
20: Steve Drazkowski
21: Bill Weber
22: Rich Draheim
23: Gene Dornink
24: Carla Nelson
25: Ken Navitsky
26: Jeremy Miller
27: Andrew Mathews
28: Mark Koran
29: Bruce Anderson
30: Eric Lucero
31: Cal Bahr
32: Kate Luther
33: Karin Housley 
34: John Hoffman
36: Roger Chamberlain
37: Warren Limmer
47: Dwight Dorau
48: Julia Coleman 
54: Eric Pratt
55: Pam Myhra
57: Zach Duckworth
58: Bill Lieske
Minnesota House of Representatives
1A: John Burkel 
1B: Deb Kiel 
2A: Matt Grossell 
2B: Matt Bliss 
3A: Rob Ecklund 
3B: Natalie Zeleznikar
5A: Krista Knudsen
6A: Ben Davis
6B: Josh Heintzemen
7A: Spencer Igo 
7B: David Lislegard
9A: Jeff Backer
10A: Ron Kresha
10B: Isaac Schultz 
11A: Jeff Dotseth
11B: Nathan Nelson
12A: Paul Anderson
12B: Mary Franson
13A: Lisa Demuth 
13B: Tim O'Driscoll
14A: Bernice Perryman
14B: Aaron Henning
15A: Chis Swedzinski
15B: Paul Torkelson
16A: Dean Urdahl
16B: Dave Baker
17A: Dawn Gillman
17B: Bobbie Harder
18B: Luke Frederick
19B: John Petersburg 
20B: Steve Jacob
21A: Joe Schomacker
22A: Bjorn Olson
22B: Brian Pfarr
23A: Peggy Bennett
23B: Patricia Mueller
24A: Duane Quam 
24B: Katrina Pulham 
26A: Gene Pelowski
26B: Greg Davids
27A: Shane Mekeland
27B: Kurt Daudt
28A: Brian Johnson
28B: Anne Neu-Brindley
29A: Joe McDonald
29B: Marion O'Neill
30A: Walter Hudson
30B: Paul Novotny
31A: Harry Niska
31B: Peggy Scott
32A: Nolan West
32B: Donald Raleigh
34A: Danny Nadeau 
34B: Melissa Hortman 
35A: Zack Stephenson 
36A: Elliot Engen
37A: Kristin Robbins
37B: John Bristol
41B: Shane Hudella
45A: Andrew Myers
45B:Lorie Cousineau
47B: Kelly Fenton
48A: Jim Nash
48B: Greg Boe
54A: Brad Tabke
54B: Ben Bakeberg
55A: Gabriela Kroetch
55B: Van Holston 
56A: Joe Landru 
56B: John Huot 
57A: Jon Koznick 
57B: Jeff Witte 
58A: Gary Bruggenthies
58B: Pat Garofalo 
The MFBF PAC endorses the following candidates in federal races:
CD1: Brad Finstad
CD2: Angie Craig
CD6: Tom Emmer
CD7: Michelle Fischbach 
CD8: Pete Stauber