Margarita Cake Pops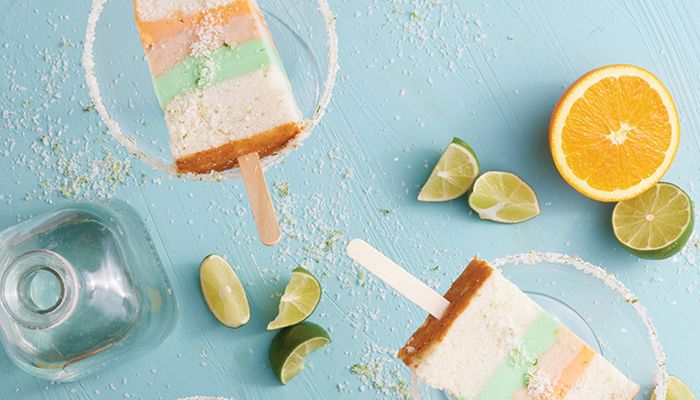 Recipe by Kristen Olson of Quincy Street Kitchen
Serves 16
1 box (16.25 ounces) white cake mix
1 cup bottled nonalcoholic margarita mix
1/4  cup silver tequila
1/3  cup vegetable oil
2 Tbsp. triple sec
2 Tbsp. grated lime peel
3 egg whites
1 pint (2 cups) lime sherbet, softened in the fridge for about 30 minutes
1 pint (2 cups) orange sherbet, softened in the fridge for about 30 minutes
16 wooden craft sticks
Kosher (coarse) salt, sugar and grated lime peel, if desired for garnish
Heat oven to 350°F. Line a 15x10x1-inch-inch baking pan with parchment paper. Lightly coat paper with baking spray and flour.
In a large bowl, beat together the cake mix, margarita mix, tequila, vegetable oil, triple sec, grated lime peel and egg whites with an electric mixer on low speed for 30 seconds, then on medium speed for 2 minutes, scraping bowl occasionally. Pour batter into prepared pan.
Bake 10 to 15 minutes or until light golden brown and the top springs back when touched lightly in center. Cool on a wire cooling rack 10 minutes. Place a clean kitchen towel over the top of cake and flip it upside down onto the cooling rack. Peel off parchment paper; cool completely.
Using a 9x5-inch loaf pan as a guide, cut two 9x5-inch rectangles out of the cooled cake; set aside. In a large bowl, crumble the remaining cake into fine crumbs. Stir in 2 tablespoons of the orange sherbet until doughy; set aside.
Line a 9x5-inch loaf pan with plastic wrap. Place one rectangle of cake in the bottom of the prepared loaf pan. Spoon and gently spread the remaining orange sherbet onto cake. 
Evenly layer the doughy, crumbled cake over the orange sherbet. Spoon and gently spread the lime sherbet on top of the crumbled cake. Top with the second cake layer and press gently into the sherbet. The top cake layer 
may stick out a bit over the top of the pan. 
Cover with aluminum foil or plastic wrap. Using a small pairing knife, cut small holes (2 rows of 8) into the cake to hold popsicle sticks. Insert a wooden craft stick into each small hole, working the stick through all layers. Freeze at least 4 hours, or until firm.
When ready to serve, use foil or plastic wrap to lift loaf from pan. Pull back foil and remove. Let stand for 5 to 10 minutes to soften slightly. Cut into 16 pops. Garnish with the sprinkling of lime zest, sugar and pinch of salt, if desired.