Meeker County Donates Books to Local School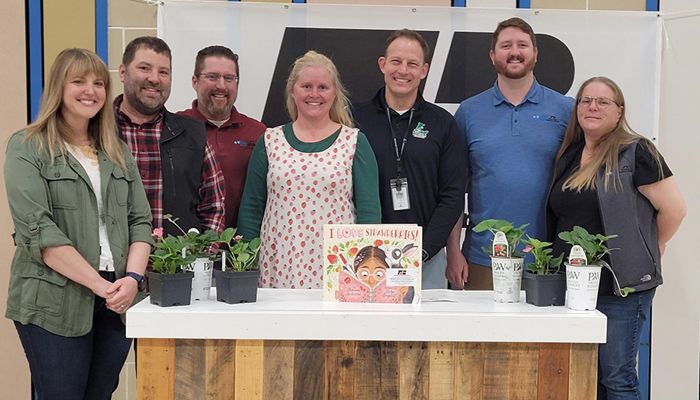 The Meeker County Farm Bureau teamed with two local Farm Bureau Financial Services (FBFS) agents to provide first graders in Litchfield their very own copy of the hardcover book "I LOVE Strawberries" written by Sharon Anderson and illustrated by Jaclyn Sinquett. 
Meeker County Farm Bureau President Matt Johnson worked with FBFS agents Ian McGuire and Michael Niedzielski on the purchase and distribution of 130 books with the help of Ripley Elementary School Principal Chris Olson. The presentation included a local strawberry farmer, Sally Hendrickson, who provided some tips for the students and teachers. 
"We are excited to present these books to local first graders," said Meeker County President Matt Johnson.  "A key part of Farm Bureau's mission is to increase agriculture literacy and educate future consumers about local crops, and these books with accurate agriculture information help advance the mission." 
FBFS agents McGuire and Niedzielski stressed the importance of agriculture in the area. "Meeker County has 1,028 farms, contributing over $118.5 million in crops and $327.7 million in livestock sales to the local economy," said Ian McGuire. "We think it's important to remember that everyone has a connection with agriculture several times a day."
"I LOVE Strawberries" follows a young child and a faithful rabbit, Munchy. Together they find out just how delicious, rewarding, and complicated it can be to grow their own food. Through a scrapbook-style journal, young readers learn how strawberries grow, and what pests to look for in the garden. This is the fifth book published by Feeding Minds Press.  The book was named the winner in Good Housekeeping's Best Kids' Book Award in 2022.