Meet a Member: President Dan Glessing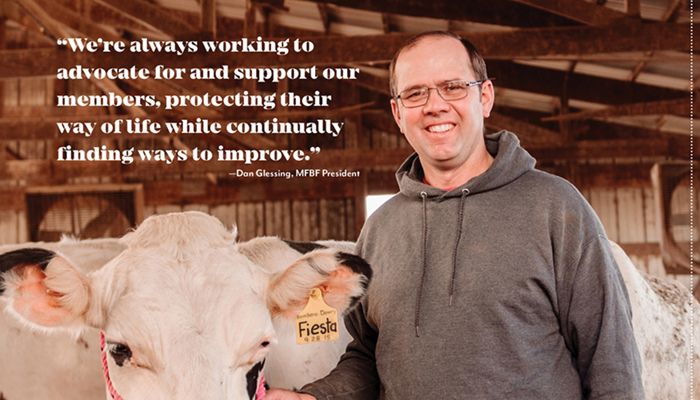 Location: Waverly
Farm commodities: Dairy, alfalfa, corn and soybeans
How did you get into farming?
I was born into it and worked on the family farm with my dad. Throughout my high school career, I was active in FFA and was chapter president. Then I went to college for farm operations with a dairy emphasis. Now my wife Seena and I are raising the sixth generation of farmers. Our kids are 16, 15, 13 and 8.  
What roles have you served within the MFBF?
Some of my earliest MFBF memories are attending the annual meeting with my dad, who was a voting delegate. As I got a little older, I got active in the Young Farmers & Ranchers program on the state and national levels. I was then elected president of the Wright County Farm Bureau and served in that capacity for seven years before a successful run for MFBF Vice President. Seven years later, I was elected president of the organization in November 2021.  
What have you learned in your decades of being a farmer? 
You're always trying to think of how you can improve and how you can do things better. At the end of the day, you probably only get 35 to 40 growing seasons to get it right over your farming career.
What's the most challenging part about being a farmer? 
You have to kind of be a jack-of-all-trades. I'm a plumber, I'm an electrician, I'm a veterinarian, I'm a businessperson. Obviously we have an electrician, we have a vet, but you need to be able to get yourself through whatever might arise, especially since help is hard to find because of the labor shortage.
What do you do for fun?
If I have a free afternoon, I love to spend it at my shop, cleaning or fixing things. After the fall harvest and rush, I enjoy getting in from milking at night by 7, 7:30 and just spending time with the kids.