Pear Bundt Cake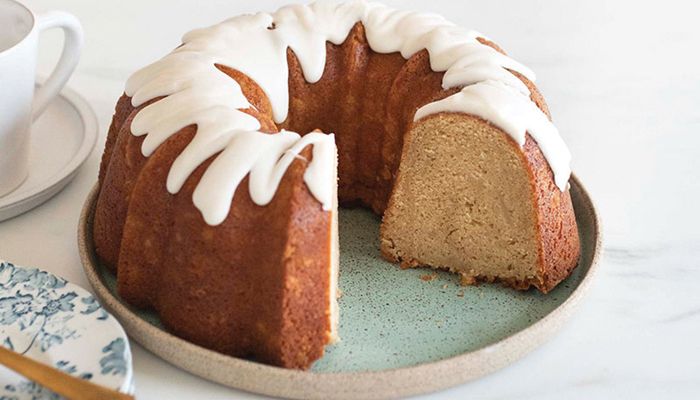 Makes 8 to 12 servings
CAKE
3 cups all-purpose flour
2 tsp. baking powder
1 ½ tsp. ground cinnamon
1 tsp. salt
½ tsp. freshly grated nutmeg
¼ tsp. baking soda
1 ½ cups unsalted butter, at room temperature
1 ½ cups granulated sugar
1 ½ cups brown sugar
5 large eggs,  at room temperature
1 tsp. pure vanilla extract
1 cup sour cream, at room temperature
1 cup ripe but still firm Bartlett pears, peeled and grated
GLAZE
1 Tbsp. unsalted butter, melted
2 to 3 Tbsp. apple cider or water
½ tsp. pure vanilla extract
Pinch of salt
1 ½ cups confectioners' sugar
For the cake
Position an oven rack in the middle of the oven and preheat the oven to 350°F. Grease and flour a 12-cup Bundt pan. Line a sheet pan with parchment paper and put a wire rack on top. 
In a medium bowl, whisk together the flour, baking powder, cinnamon, salt, nutmeg and baking soda. 
In the bowl of a stand mixer fitted with a paddle, beat the butter on medium speed until creamy, about 1 minute. Add the granulated and brown sugars and beat until light and fluffy, 4 to 6 minutes. 
Scrape down the sides of the bowl and add the eggs, one at a time, beating until incorporated and stopping to scrape down the sides of the bowl after each addition as needed. Beat in the vanilla. Add one-third of the flour mixture and mix on low speed until combined. Add half the sour cream and mix until incorporated. Scrape down the sides of the bowl, and add half of the remaining flour mixture, then the remaining sour cream, and finally the remaining flour, mixing after each addition to incorporate. Add the pears and use a spatula to mix them into the batter and give a few extra turns to make sure everything is completely combined. 
Pour the batter into the prepared pan and use an offset spatula to smooth out the top. Bake until the cake is golden and a wooden skewer or toothpick inserted near the center comes out clean, 50 to 65 minutes. 
Transfer the pan to a wire rack and let cool for 10 minutes. Invert the cake onto the rack to finish cooling before glazing. 
For the glaze
While the cake is cooling, in a medium bowl, stir together the melted butter 2 tablespoons of the apple cider, the vanilla and salt. Add the confectioners' sugar and mix together, then whisk until well combined and smooth. If needed, add the remaining 1 tablespoon of apple cider until the glaze is thick but pourable. Pour the glaze over the cake while it is still warm, then let the cake cool before serving. The cake can be wrapped in plastic wrap and stored at room temperature for up to 2 days, or refrigerated up to 4 days.