Pierce Bennett Hired as Director of Public Policy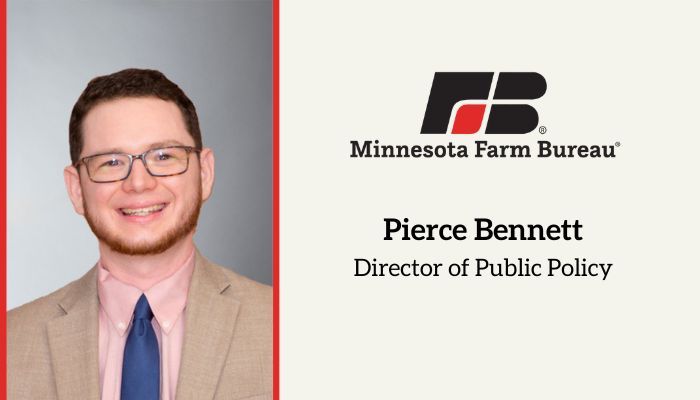 Minnesota Farm Bureau Federation (MFBF) has named Pierce Bennett its new director of public policy. 
Bennett joins MFBF from the Livestock Marketing Association in Overland Park, Kansas, where he most recently worked as the director of government and industry affairs since 2020. Previously, he served as a government and industry affairs associate at the same organization.
"I am excited to begin my time with MFBF, and look forward to representing Minnesota's farmers," says Bennett. "Growing up on a farm, I feel fortunate to work full-time on agriculture policy issues and ensuring our members' voices are heard with elected officials and leaders."
A native of Ohio, Bennett is a 2017 Kansas State University graduate with a bachelor's degree in animal science and industry. During his college career, he also gained valuable legislative experience with internships with the Senate Committee on Agriculture, Nutrition & Forestry, and the North American Meat Institute.