Prosciutto and Parmesan Egg Cups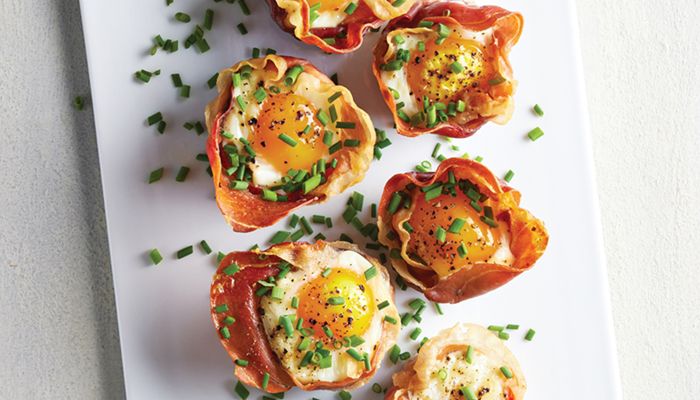 Prosciutto and Parmesan Egg Cups
Serves 6
1/3 cup finely grated Parmesan cheese
1/4 cup finely chopped chives
12 pieces thinly sliced prosciutto
6 large eggs
6 slices tomato, plus a few chunks for serving
Freshly cracked black pepper
Chives for garnishing
1.    Place a rack in the upper third of the oven and preheat oven to 350°F.
2.    Line a muffin pan with 6 cupcake liners. Drape 2 slices of prosciutto into each cup, ensuring there are no holes for the egg to sneak through. The prosciutto will shrink a bit as it bakes, so let the prosciutto drape over the cupcake paper a bit. 
3.    Place a tomato slice into each prosciutto cup. Sprinkle 1 tablespoon of Parmesan atop each tomato. Crack an egg into the prosciutto cup. Sprinkle with freshly cracked black pepper. 
4.    Bake for 14 to 16 minutes or until the eggs are cooked as desired. Allow to cool for 5 minutes before serving warm. Egg cups can be stored in the refrigerator and served cold if desired.