Stacy Fritz Named FFA Advisor of the Year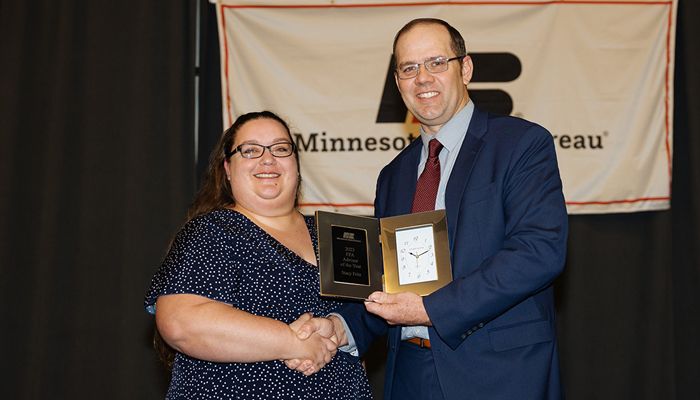 Chatfield FFA Advisor Stacy Fritz has been named the Minnesota Farm Bureau FFA Advisor of the Year, announced during the Awards Night of the organization's 105th Annual Meeting on Friday, Nov. 17 in Bloomington.
Over her career, Stacy has developed and taught curriculum related to food chemistry, physics in agriculture, animal science, biotechnology, natural resources and small engines. She is also credited with creating and implementing two classroom curriculums: a food chemistry class that serves the chemistry requirement for graduation, and an energy, power and transportation class that serves as a math credit for graduation. She also integrated a Supervised Agricultural Experience (SAE) into the FFA program with a greenhouse, vegetable garden, apiary and chicken coop.
In Stacy's work as an FFA Advisor, she has been recognized as a leader for a Premiere FFA Chapter in 2018, a Top 3 FFA Chapter for six years and a National 3 Star Chapter for 7 years. She and her students host numerous events that engage the school and local community throughout the year, including a family fun ag day, drive-thru meal, State FFA Day at the Capitol, volleyball tournament, crop plot, and little farm hands exhibit at the Fillmore County Fair.
Stacy is an active member in several agricultural educator professional organizations, currently serving as the Minnesota Association of Ag Educators Region 8 Secretary and also sits on the SAE Committee.