Sugarbeet Farming in Minnesota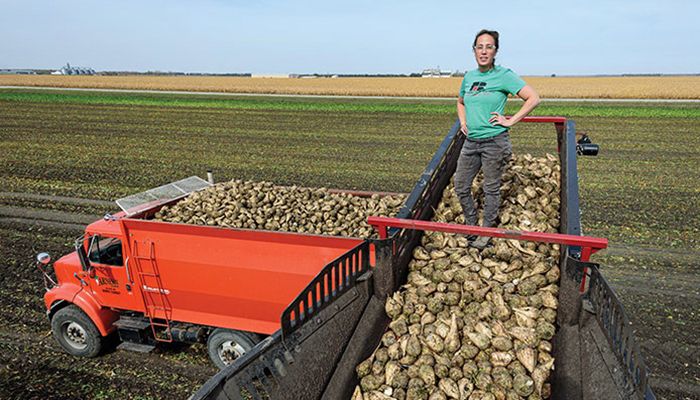 As October nears, Halstad, Minnesota, farmer Rachel Arneson is preparing for one of her busiest times of the year. The Red River Valley sugarbeet grower is about to enter the "main campaign" for the sugarbeet harvest, a 24/7 operation that kicks off around October 1. During this time, beets are harvested and stored as quickly as possible, until they can be processed for the sugar that we buy at our local grocery stores.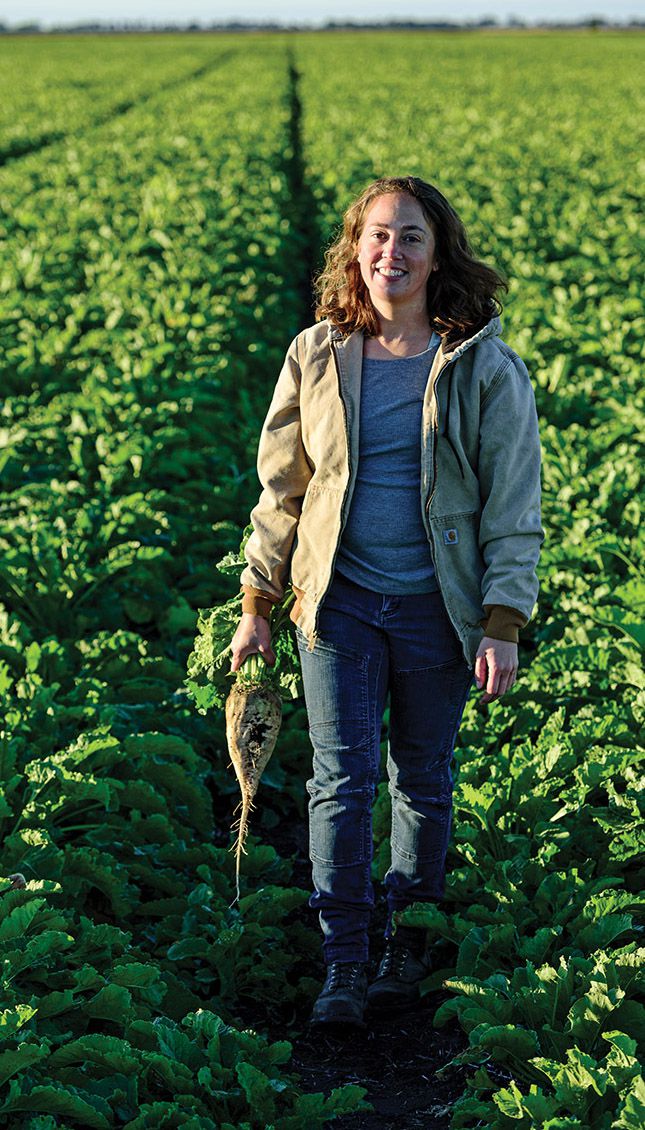 A third-generation sugarbeet grower, Arneson's dad and grandfather began growing sugarbeets in the 1960s, co-signing to obtain the pricey sugarbeet shares and specialized equipment needed to farm them. "My grandfather was always wanting to try out new and exciting things," says Arneson, whose ancestors' farming roots go back to the 1800s. 
"My great-great grandfather settled in Halstad in 1883," she adds. "I'm still farming some of the land that my family purchased back then," growing wheat, soybeans and corn, in addition to sugarbeets, on 4,000 acres that sit directly along the Red River.  
Arneson's farm is one of about 3,500 in the Red River and Minnesota River valleys that grow sugarbeets. With 434,000 planted acres producing 11 million tons in 2022, according to the United States Department of Agriculture, Minnesota is one of the country's leading sugarbeet growers—and has been for decades.
Minnesota's Rise to the Top 
Minnesota didn't always hold the number-one seed, so to speak, when it came to sugarbeets. Modern sugarbeets were first bred from fodder beets in 18th-century Germany, and it was German chemist Andreas Marggraf who observed that the crystals formed after extraction from pulverized beet roots were identical to sugarcane crystals. 
"Once sugar is produced, you don't know what kind of sugar you're getting. It's exactly the same sugar whether it comes from a beet or a cane. Even under a microscope, you couldn't tell the difference," explains Neil Rockstad, president of the Red River Valley Sugarbeet Growers Association, vice president of the American Sugarbeet Growers Association and Minnesota Farm Bureau member. Since the 1990s, sugar production in the U.S. has come from 45% sugarcane and 55% sugarbeets.
Marggraf's discovery came in handy during the Napoleonic wars, when the British blocked shipments of cane sugar to the rest of Europe. Factories dedicated to processing sugarbeets for sugar popped up around France, and eventually made their way to the U.S. After a handful of failed attempts to establish sugarbeet factories in Massachusetts, Illinois, Wisconsin, Utah, Maine, New Jersey and Delaware, American businessman E.H. Dyer opened the first successful commercial sugarbeet factory in California in the 1870s.
By the time sugarbeet farming started to gain traction in Minnesota—with the first Minnesota Sugar Company factory built in 1898 in St. Louis Park, and later relocated to Chaska after a fire in 1905—there was another powerhouse sugarbeet producer in the U.S., Henry Oxnard's American Beet Sugar Company out of Denver. 
American Beet chemist Herman Zitkowski got wind of the impressive sugarbeet growing conditions in Minnesota's Red River Valley, and after he visited in 1924, he advised American Beet to acquire the Minnesota Sugar Company and the Northern Sugar Corporation in Mason City, Iowa, relocating the company to East Grand Forks. American Beet Sugar Company became the American Crystal Sugar Company in 1934. With five sugar factories in the Red River Valley, American Crystal is the largest beet sugar manufacturer in the U.S.
Home Field Advantage 
Today, the Red River Valley and Minnesota River Valley regions accounts for 60% of total sugarbeet production in the U.S. 
"Our rich soils and our climate are conducive to growing good sugarbeets," explains Rockstad, a fourth-generation farmer who grows sugarbeets—in addition to wheat, soybeans and corn—with his wife Elizabeth and two daughters, Nora and Hazel, in Ada, Minnesota. "Additionally, our winters act as a natural refrigerator conducive to storing those sugarbeets outside until we can get them processed, which is an advantage." 
Once sugarbeets are harvested in the fall, they are stored to keep them cool and viable throughout the duration of the factory's processing campaign, which typically ends in May of the following year. As beets arrive at the factory, they are weighed and sampled for their sugar content, and farmers are paid on the pounds of sugar they deliver. An average sugarbeet weighs between 3 and 5 pounds, comprised of 75% water, 20% sugar and 5% pulp. Of course, these numbers fluctuate depending on weather conditions. In a drought, for example, the sugar content might be higher because there is less water for the crop to absorb. 
That unpredictability is one of the most challenging aspects of farming, says Arneson. "I think that's why faith and farming are so intertwined. I need to focus on what is in my control," she says, noting that the support and education from Norman County Farm Bureau and Minnesota Farm Bureau—for which she served on the Promotion and Education Committee for six years—helped in her early seasons of farming, when she returned to the family farm full-time in 2012 after her dad's health declined. 
"Even though I'm sure there have been times when I've been extremely stressed out about the weather, I do try to remind myself that it is what it is," she adds. "That is the name of the game with farming. When sugarbeet harvesting is tough, you ask yourself, 'Why am I doing this?' But at the end of the day, it's really rewarding to be part of the culture and history in the area."
Statewide Impact
Today, the entire U.S. beet sugar processing industry is farmer-owned-and-operated, also known as a cooperative. Minnesota farmers are a part of one of three cooperatives: the American Crystal Sugar Cooperative—of which Arneson and Rockstad are members—the Southern Minnesota Beet Sugar Cooperative or the Minn-Dak Farmers Cooperative.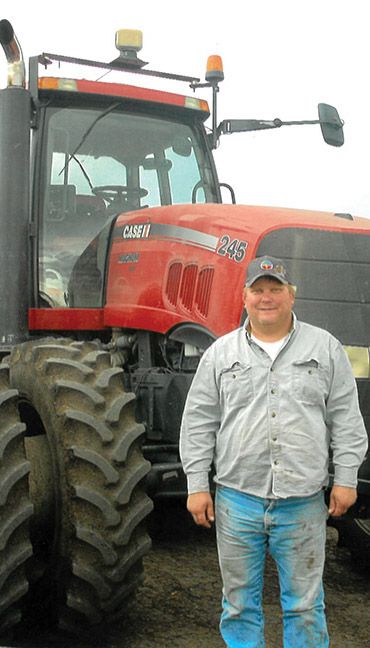 "It's very unique being a member of a cooperative where I own the food ingredient from the time we plant it to the time it's sold," says Rockstad. "There can be rewards to the business, but there's also tremendous risk because we own the entire industry from start to finish. You work hard to ensure you're doing your part not only to deliver a good product, but to make sure that it's promoted, marketed, defended and, in the case of foreign policy, recognized and treated fairly. We're much more deeply involved in sugar production than we are in our other commodities because we are the owners all the way through." 
Because of the cooperative arrangement, any profit left over after the costs associated with processing the sugarbeet crop is 100% paid out to the grower/owner-members of each cooperative. It's estimated that the sugarbeet industry in the Red River Valley provides more than 20,000 jobs and generates $4.9 billion annually for the state of Minnesota and eastern North Dakota, so when Minnesota's sugarbeet farmers succeed, the whole state wins. 
"Sugarbeets are an important part not only of my farm but of my community," says Rockstad. "The local businesses, the hospitals, the communities, the way of life we have here in the Red River Valley is dependent on a successful sugarbeet industry. I think it's important that we do everything we can to sustain that industry and make sure it's here for generations to come."
BY THE NUMBERS
1 - Minnesota's ranking for sugarbeet production in the U.S.
30-35% - Percent of U.S. sugarbeet production that comes from Minnesota
20% - Average percent of sugar in a sugarbeet
11 - States sugarbeets are grown in, including Minnesota, California, Colorado, Idaho, Michigan, Montana, Nebraska, North Dakota, Oregon, Washington and Wyoming.
20,500 - Approximate number of full and parttime equivalent jobs provided by Minnesota's sugarbeet industry
$4.9 billion - Annual economic impact of sugarbeets on the states of Minnesota and North Dakota
55% - Percentage of U.S. sugar production that comes from sugarbeets; 45% comes from sugarcane
3,500 - Sugarbeet farms in the Red River Valley region
434,000 - Planted acres of sugarbeets throughout the state in 2022
3 - Sugar cooperatives in Minnesota, including American Crystal Sugar Cooperative, the Southern Minnesota Beet Sugar Cooperative and the MinnDak Farmers Cooperative