Three Couples Receive Honorary Life Recognition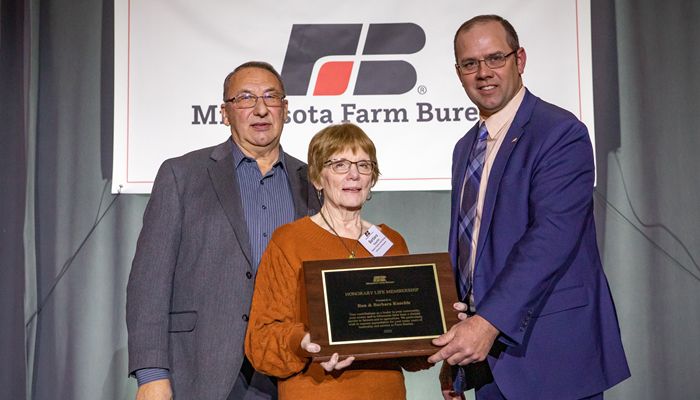 The Minnesota Farm Bureau Federation (MFBF) recognized three couples for their lifelong service to the organization at its 104th Annual Meeting on November 18 in Bloomington. 
Honored during the Friday evening ceremony were Ron and Barbara Kuechle (Stearns County), John and Harriet McPherson (Washington County) and Bennett and Gloria Osmonson (Polk County). 
Ron and Barbara Kuechle
Ron Kuechle has been an active Farm Bureau member for over 30 years, playing an important role in supporting and growing not only the organization but all of agriculture in Stearns County. Kuechle served as president of the Stearns County Board of Directors for over 20 years, and still plays an active role including chairing the county P&E Committee. He has also taken on leadership roles at the state level, serving on the MFBF P&E Committee, Resolutions Committee, and representing the county as a voting delegate during MFBF Annual Meeting. His leadership reflects an understanding of the importance of planning, recruiting and engaging members.
Kuechle is a regular attendee and local coordinator of MFBF Day on the Hill Events, and in 2020 co-created "Day on the Dairy" to connect Stearns County Farm Bureau members with their local elected officials, bringing those individuals to the farm to see how their actions directly affect family farms. He served as committee chair for the first Stearns County Breakfast on the Farm in 1998, which was not only a great success but also started the county Farm Bureau on a more focused membership path. For those actions, he has been recognized with numerous President's Club awards for continuous membership growth in the county and is also a 12+ year member of the Producer's Club. 
Beyond Farm Bureau, Kuechle is a volunteer with local 4-H and FFA chapters, active in his church, serves on the township board and is a member of the Minnesota National Guard. Ron and his wife Barbara, along with their children own and operate their family dairy farm in Watkins.
John and Harriet McPherson
John and Harriet have over 73 years of continuous Farm Bureau membership. During those years, John served on the Washington-Ramsey County Board, including chairing the board for several years. He also took on roles at the state level, serving as a voting delegate at MFBF Annual Meetings. Harriet also held leadership roles, serving as the county's legislative liaison. Together, the couple represented Minnesota on the national level, traveling with the American Farm Bureau Federation on a trip to New Zealand and Australia. 
Outside of Farm Bureau, the couple played active roles in supporting agriculture in Minnesota. John served on the Dairy Herd Improvement Association Board and Farm Service Agency Board for several years, was a county 4-H leader, and served as a training farm for the University of Minnesota School of Veterinary Medicine. Harriet served over 20 years on the Washington County Extension Committee and was also a 4-H leader. She served four terms in the state legislature during the Perpich and Carlson administrations, spending time on the House Agriculture Committee, Environment & Natural Resources Committee, and Education & Higher Education Committee. She was also appointed to the State Jobs & Labor Committee by Governor Quie. 
John and Harriet both played active roles on the Washington County Fair Board, were members of the Washington County Agriculture Society, volunteered with the Washington County Red Cross and are active with their church. The couple resides in Carlos where they were dairy and crop farmers for 40 years before transitioning to beef and crop farming.
Bennett and Gloria Osmonson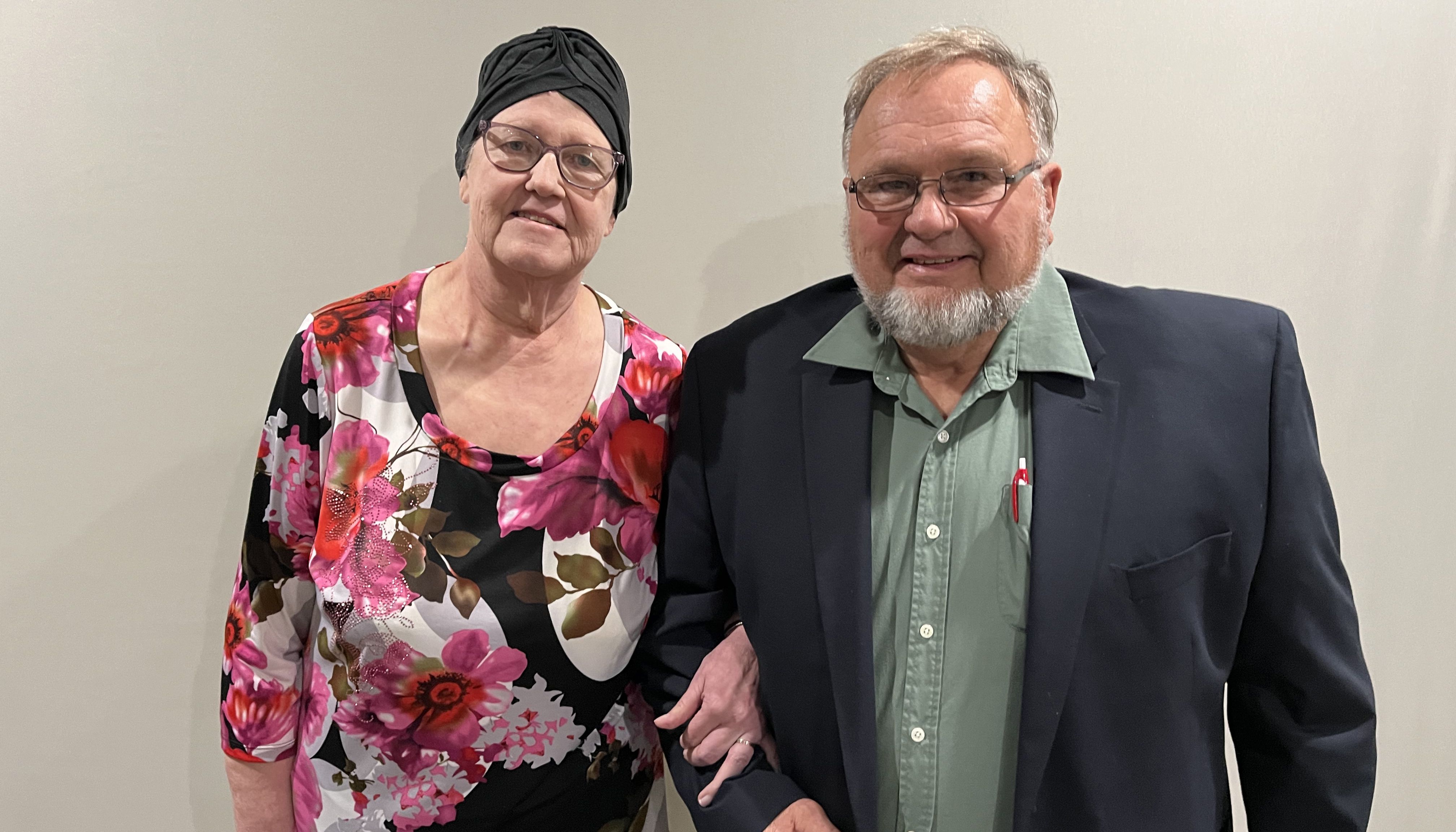 Bennett is a lifelong Farm Bureau member, inheriting his father's membership after his passing when he was 18. Bennett cites many previous staff, including Howard Handlin and Ed Grady, as playing important roles in driving his and Gloria's participation in Farm Bureau. However, the biggest encouragement came when the local Women's Committee sponsored them to attend a District Young Farmers & Ranchers meeting. Leaving the meeting inspired, they soon became the county YF&R chairs before serving on the state YF&R Committee for two years. 
Bennett also served a combined 20 years in leadership on the East Polk County Farm Bureau Board. From 1988 to 2003, he served as the District VII representative on the MFBF State Board of Directors where he chaired the property tax committee. Other leadership roles he's held with MFBF include serving on the state policy committee, state long range planning committee, and several state and national commodity committees. Gloria also played an active role in Farm Bureau, serving alongside Bennett on the state YF&R Committee, participating in East Polk County Farm Bureau Women's Committee activities and serving as a "First Care" on-farm emergency response educator. Bennett and Gloria both volunteered with local 4-H and FFA groups and have helped the next generation by hosting several University of Minnesota students and international students on their farm as interns for over 30 years. Bennett and Gloria retired from dairy farming in 2015 after 50 years. 
The two currently farm 700 acres of corn, soybeans, wheat, sunflowers and alfalfa.