Through the Years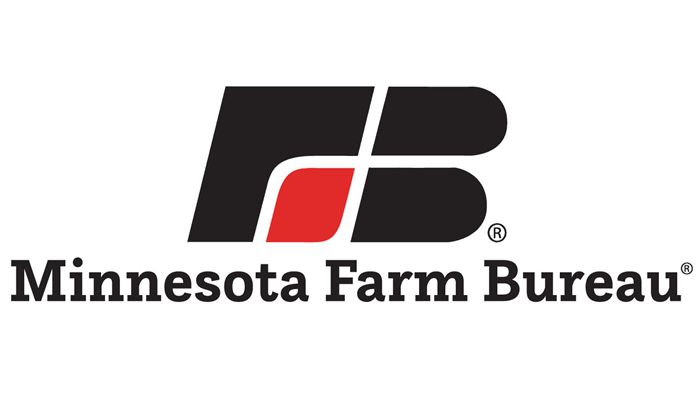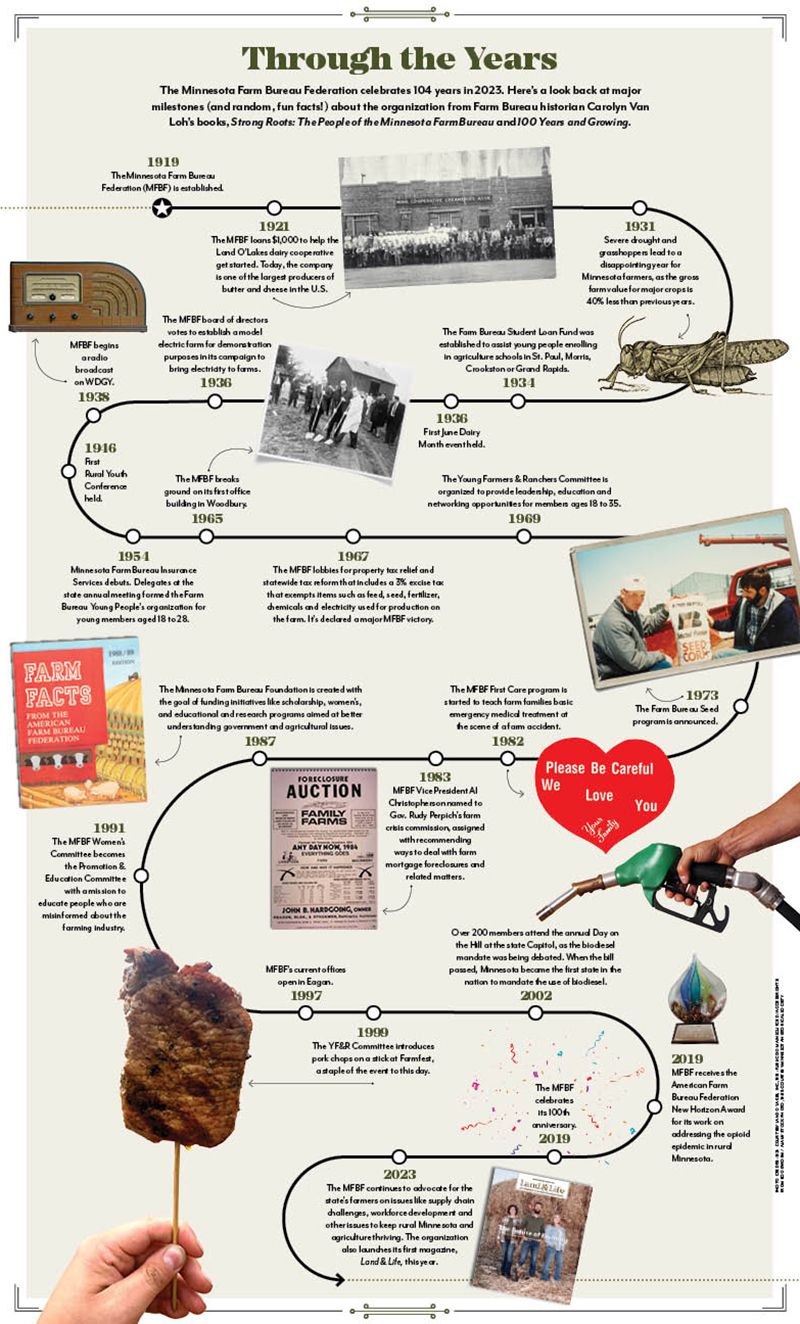 1919: The Minnesota Farm Bureau Federation (MFBF) is established.  
1921: The MFBF loans $1,000 to help the Land O'Lakes dairy cooperative get started. Today, the company is one of the largest producer of butter and cheese in the U.S. 
1931: Severe drought and grasshoppers lead to a disappointing year for Minnesota farmers, as the gross farm value for major crops is 40% less than previous years. 
1934: The Farm Bureau Student Loan Fund was established to assist young people enrolling in agriculture schools in St. Paul, Morris, Crookston or Grand Rapids. 
1936: First June Dairy Month event held. 
1936: the MFBF board of director votes to establish a model electric farm for demonstration purposes in its campaign to bring electricity to farms. 
1938: MFBF begins a radio broadcast on WDGY. 
1946: First Rural Youth Conference held. 
1965: The MFBF breaks ground on its first office building in Woodbury. 
1967: The MFBF lobbies for property tax relief and statewide tax reform that includes a 3% excise tax that exempts items such as feed, seed fertilizer, chemicals and electricity used for production on the farm. It's declared a major MFBF victory. 
1969: The Young Farmers & Ranchers Committee is organized to provide leadership, education and networking opportunities for members ages 18 to 35. 
1973: The Farm Bureau Seed program is announced. 
1982: The MFBF First care program is started to teach farm families basic emergency medical treatment at the scene of a farm accident. 
1983: MFBF Vice President Al Christopherson named to Gov. Rudy Perpich's farm crisis commission, assigned with recommending ways to deal with farm mortgage foreclosures and related matters.
1987: The Minnesota Farm Bureau Foundation is created with the goal of funding initiatives like scholarship, women's and educational and research programs aimed at better understanding government and agricultural issues. 
1991: The MFBF Women's Committee becomes the Promotion & Education Committee with a mission to educate people who are misinformed about the farming industry. 
1997: MFBF's current offices open in Eagan. 
1999: The YR&R Committee introduces pork chops on a stick at Farmfest, a staple of the event to this day. 
2002: Over 200 members attend the annual Day on the Hill at the state Capitol, as the biodiesel mandate was being debated. When the bill passed, Minnesota became the first state in the nation to mandate the use of biodiesel. 
2019: MFBF receives the American Farm Bureau Federation New Horizon Award for its work on addressing the opioid epidemic in rural Minnesota. 
2019: The MFBF celebrates its 100th anniversary. 
2023: The MFBF continues to advocate for the state's farmers on issues like supply chain challenges, workforce development and other issues to keep rural Minnesota and agriculture thriving. The organization also launches its first magazine, Land & Life, this year.