Winter Comforts
Recipes by Kristen Olson of Quincy Street Kitchen
Food Styling by Sara Bartus 
Banana-Nut French Toast Bake
Prep Time: 15 minutes
Start to Finish: 9 hours, 15 minutes
Makes: 8 servings
½ cup butter, melted
½ cup firmly packed brown sugar
8 large eggs, lightly beaten 
1 ½ cups whole milk or heavy cream 
1 tsp. cinnamon
1 tsp. vanilla extract 
½ salt 
1 (about 16 ounces) sliced cinnamon bread, cut into ½-inch cubes (about 8 cups)
5 ripe bananas, cut into ½-inch slices 
1 ½ cups pecan halves 
Maple syrup, if desired for serving
 

In a large bowl, mix together melted butter and brown sugar until smooth. With a fork, whisk in eggs, milk, cinnamon, vanilla and salt until smooth; set aside.

Spray a 13x9-inch (3-quart) baking dish with cooking spray. Add cinnamon bread, banana slices and pecans to baking dish and gently stir to mix. Pour egg mixture over bread and bananas. Cover and refrigerate 8 hours or overnight.
Heat oven to 350°F. Uncover; bake 45 to 55 minutes or until golden brown along edges and knife inserted in center comes out clean. Let stand 5 minutes before serving. Serve with maple syrup, if desired.
Kale and Grain Salad with Lemon Dressing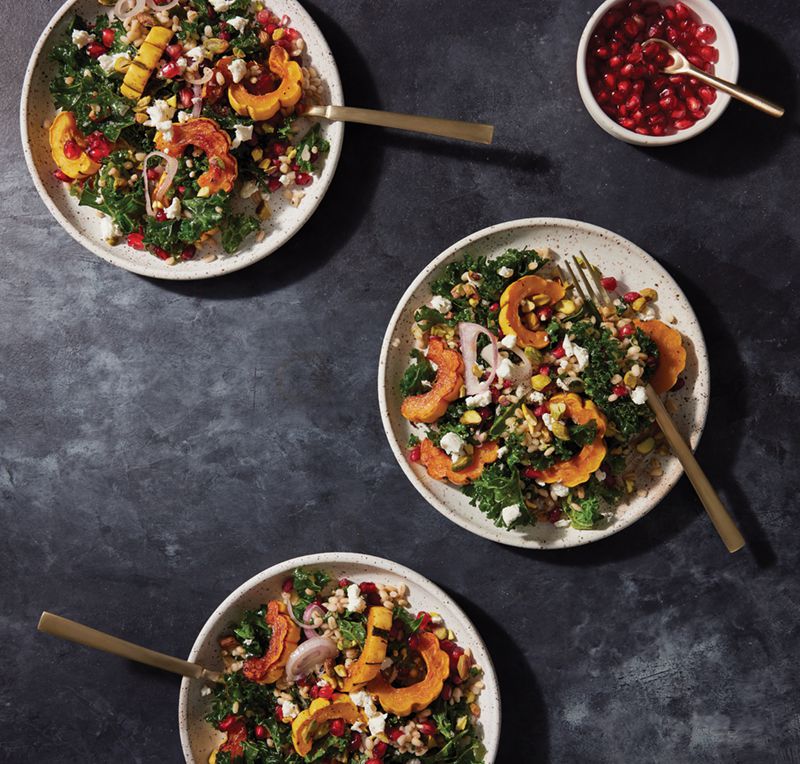 Prep Time: 30 minutes
Start to Finish: 1 hour
Makes: 7 servings
Kale and Grain Salad
1 medium delicata squash, halved lengthwise, seeded and cut into ½-inch slices (about 4 cups)
½ Tbsp. olive oil 
½ tsp. salt
1/8 tsp. pepper
½ cup pearled barley 
1 ½ cups chicken broth or water
1 bunch kale, stems removed and leaves chopped
1 shallot, thinly sliced
1 cup pomegranate seeds (from 1 pomegranate)
½ cup pistachio nuts, roughly chopped
½ cup crumbled goat cheese 
Lemon Dressing 
2 Tbsp. fresh lemon juice
2 tsp. honey
1 Tbsp. Dijon mustard 
¾ tsp. coarse kosher salt
½ tsp. black pepper
¼ cup olive oil 
 

Heat oven to 400°F. Spray a 15x10x1-inch pan with cooking spray. Place the squash in the pan, top with 1 tablespoon olive oil, ½ teaspoon salt and ? teaspoon pepper; stir to coat. Bake 20 to 25 minutes, stirring occasionally, until squash is crisp-tender when pierced with a fork.

Meanwhile, in a medium saucepan, cook and drain pearled barley as directed on the package until tender using chicken broth in place of water for extra flavor.
In large mixing bowl, combine all Lemon Dressing ingredients with a whisk until smooth; stir in kale and shallot. Massage with your hands 2 to 3 minutes or until kale softens slightly. 
Stir cooked barley and roasted squash into kale mixture and refrigerate at least 1 hour or up to 1 day before serving. When ready to serve, stir in pomegranate seeds, pistachio nuts and goat cheese
Garlic-Herb Butter Roasted Chicken and Winter Veggies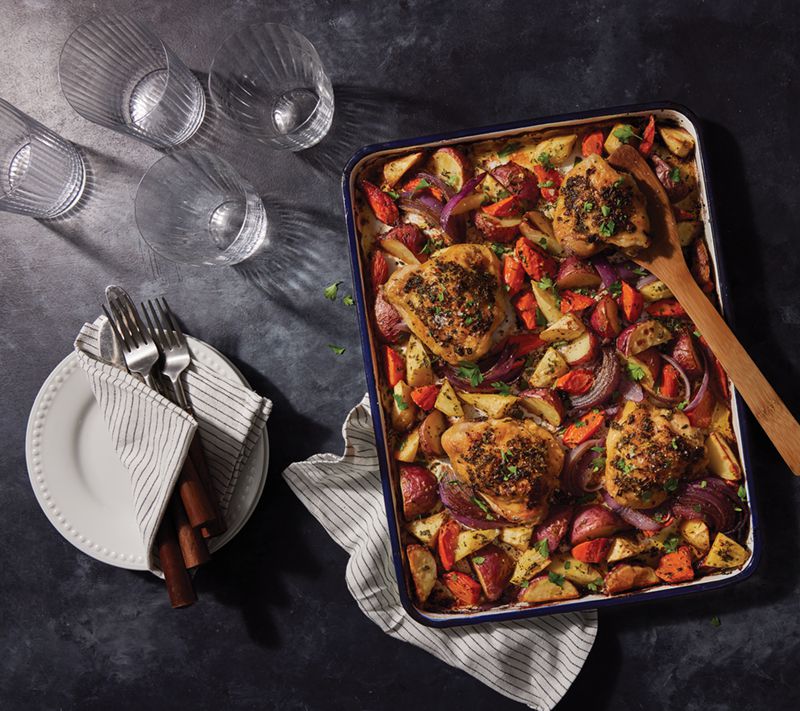 Prep Time: 15 minutesStart to Finish: 1 hour
Makes: 4 servings (1 chicken thigh + about 1 ? cups veggies)
5 Tbsp. finely chopped fresh herbs (thyme, rosemary and parsley)
¼ cup butter, melted
4 cloves of garlic, finely chopped
1 tsp. coarse Kosher salt
½ tsp. freshly ground black pepper
4 medium red potatoes, cut into 1-inch pieces 
2 large parsnips, cut into 1-inch pieces
2 large carrots, peeled, cut into 1-inch pieces
1 large red onion, cut into 1-inch wedges
4 bone-in skin-on chicken thighs (about 20 ounces)
Heat oven to 425°F. Spray 15x10x1-inch pan with cooking spray. In a small bowl combine fresh herbs, melted butter, garlic, salt and pepper; set aside.

In a large bowl, mix together potatoes, parsnips, carrots, onion and 2 tablespoons of the garlic-herb butter mixture; toss to coat. Transfer to a single layer in prepared pan.
Place chicken thighs, skin side up in pan and brush with remaining butter-herb mixture. 
Bake 35 to 45 minutes or until chicken is cooked through (at least 165°F in thickest part of thighs) 
 and vegetables are fork-tender. Serve with additional fresh herbs, if desired.