Agriculture Leaders Recognized at MFBF LEAP Conference
The Minnesota Farm Bureau Federation (MFBF) recognized four leaders from across the state for their contributions to the organization and agriculture at its annual Leadership, Education, Advocacy and Promotion (LEAP) Conference, held Jan. 28-29 in Minnetonka.
Both the Promotion & Education (P&E) and Young Farmers and Ranchers (YF&R) Committees presented two awards at this year's conference.
The P&E Committee handed out the Advocate of the Year Award to Linda Binkley of Beltrami County and the Golden Apple Award to Sarah Kuschel of Cass County.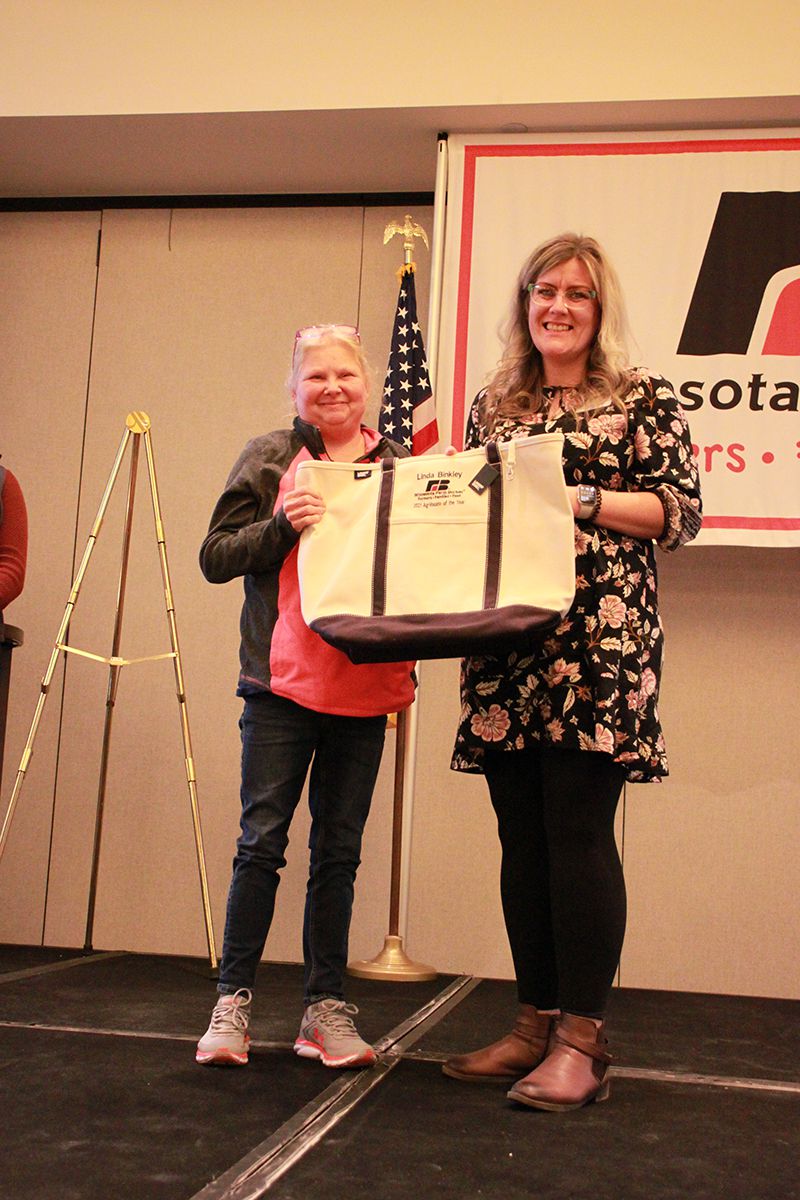 Advocate of the Year - Linda Binkley
The Advocate of the Year Award is presented to someone who works tirelessly to advocate for farmers and ranchers. An agriculture advocate to her core, Binkley works hard to make Beltrami County agriculture events fun, hands-on and educational for all attendees. She is passionate about Farm Bureau, the resources it provides, and is a well-known 4-H volunteer.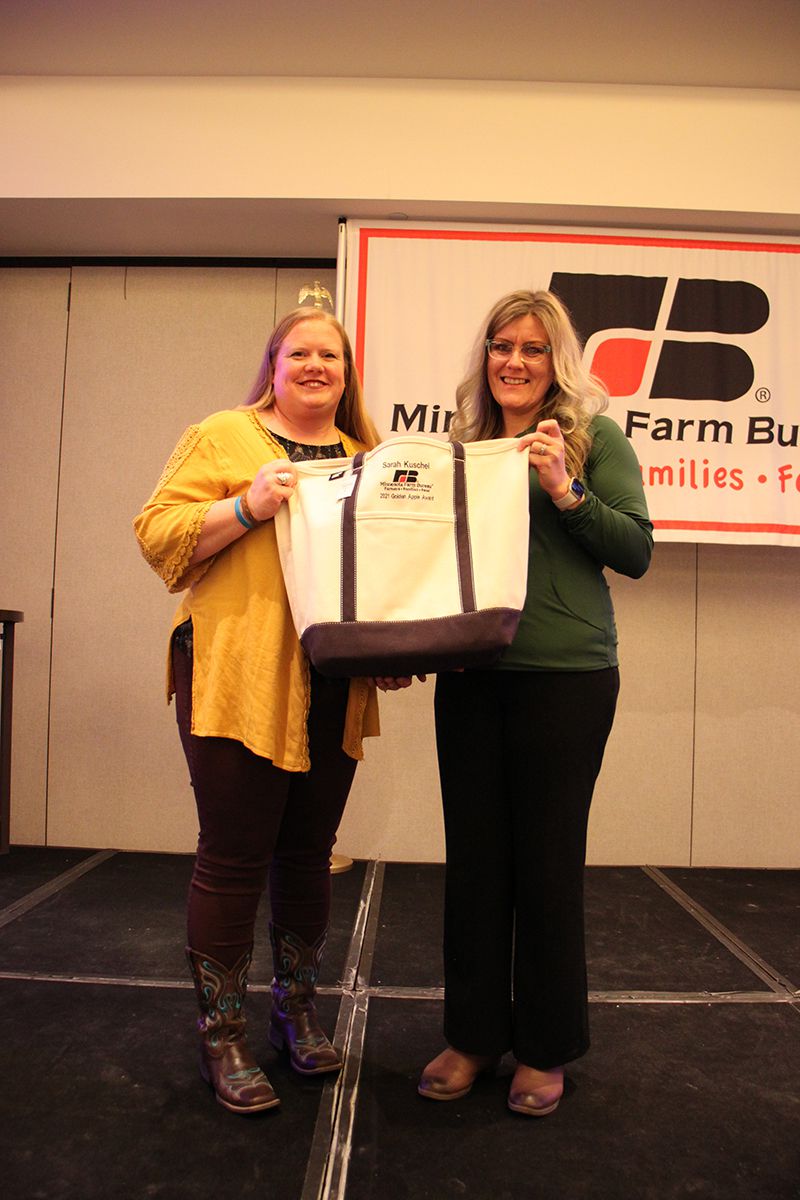 Golden Apple Award - Sarah Kuschel
The Golden Apple Award is presented to someone who has gone above and beyond to work with Agriculture in the Classroom programs and educate others about farming and ranching. Working with a variety of groups to promote the Ag in the Classroom program, Kuschel also serves as a regional curriculum specialist for the program.
The YF&R committee presented its Golden Pitchfork Award to Libby Knoebel, formerly of Wright County, while the Outstanding Friend of YF&R went to Kevin Paap of Blue Earth County.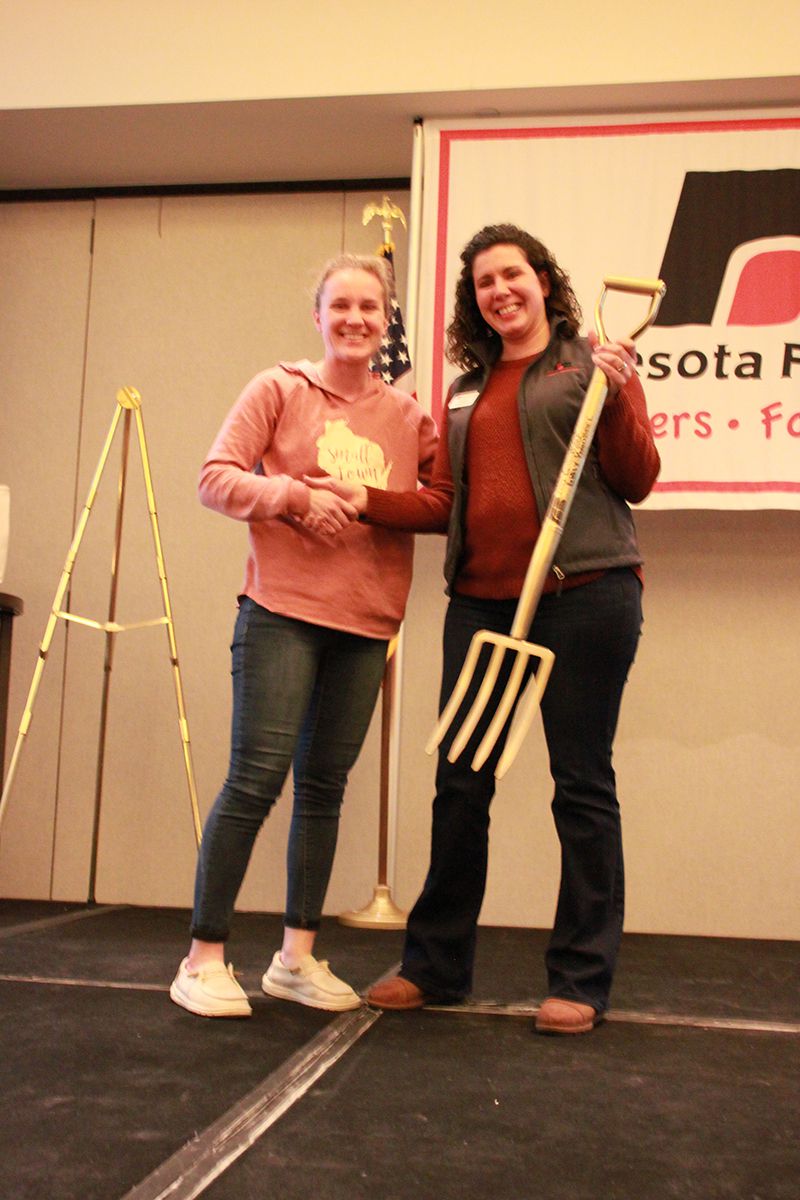 Golden Pitchfork Award - Libby Knoebel
The Golden Pitchfork Award is presented to someone who is not afraid of hard work and heavy lifting. Always willing to lend a hand, Knoebel made a big impact on the MFBF in a short amount of time, demonstrating a commitment to helping MFBF and its members succeed.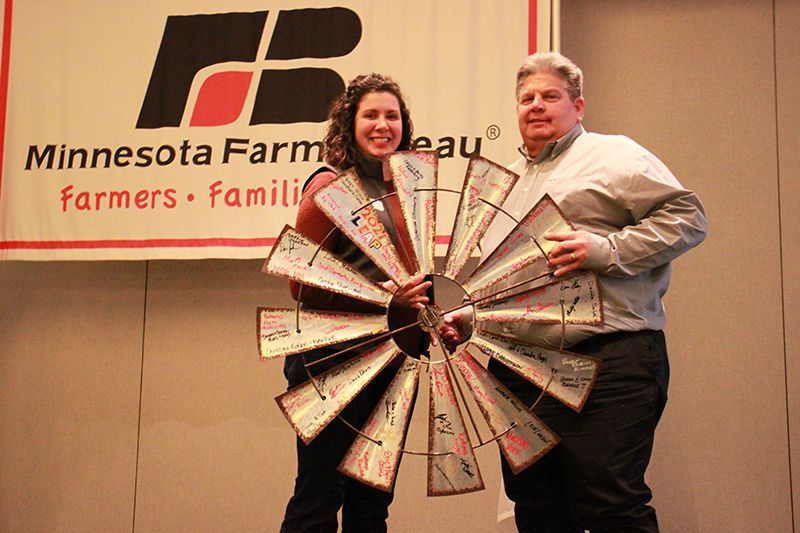 Outstanding Friend of YF&R - Kevin Paap
The Outstanding Friend of YF&R is presented to someone who has gone above the call of duty to assist and lead YF&R into the future. Paap passionately promoted YF&R programming at the county, state and national levels, while encouraging young farmers to get involved and take advantage of everything offered. Serving in MFBF leadership roles for a combined 24 consecutive years, including 16 as president, his impact and passion for the Farm Bureau is recognizable across the state.
The annual LEAP Conference is designed to provide leadership and advocacy training for all MFBF members and is hosted by the P&E and YF&R Committees. Over 200 members attended the conference this year to take part in workshops, special sessions and networking with fellow members from around the state.
About the Minnesota Farm Bureau Federation
The Minnesota Farm Bureau Federation is an advocate for agriculture, driven by the beliefs and policies of our over 30,000 member families and 78 county groups. Learn more about our efforts as an advocate for rural Minnesota at www.fbmn.org.