Introducing the 2023 Herd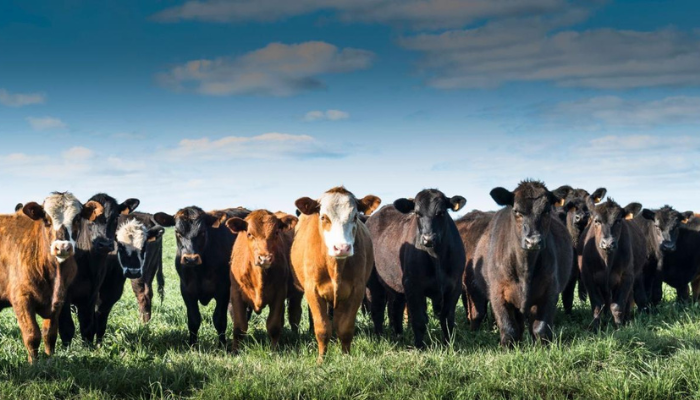 The Minnesota Farm Bureau Federation (MFBF) is excited to announce its new program, "The Herd". The Herd is for members ages 18-23 who enjoy social media and want to share their love of agriculture with the world. Members gain valuable skills in agriculture communication by learning from industry professionals and through hands-on experiences. Herd members were selected in the spring and will participate in the program for one year. MFBF welcomed Kestlyn Willert, Melissa Hammer, and Jacob Runge into the inaugural group.
Willert is a senior at the University of Minnesota Twin Cities acquiring a double major in agricultural communication & marketing and animal science, with a minor in political science. Kestlyn enjoys staying active on campus and advocating for agriculture through various clubs including Block & Bridle Club, Beta of Clovia Sorority, the Agricultural, Education, Communication & Marketing Club, the National Cattlemen's Beef Association, and the Washington/Ramsey County Farm Bureau outside of school. Additionally, Willert's passion for livestock led her to join the 2021-2022 General Livestock Judging Team at the University of Minnesota and will assist coach, Kyle Rozeboom, this coming year as he trains the next team. Willert is a past Minnesota State Beef Ambassador, Minnesota State 4-H Agricultural Ambassador, and Minnesota Farm Bureau Foundation Intern.
Willert hails from Marshall, Minnesota where she was actively involved in 4-H through public presentations and showing lamb and beef cattle. While Willert was introduced to agriculture at a young age, it was not until high school that she dove deeper into the industry. With the help of her agriculture education teacher and livestock judging coaches, Willert learned more about the industry and decided to pursue agriculture as a career. Now, Willert's family resides near Brookings, South Dakota where they have a small cow-calf operation. Willert holds an integral role in breeding decisions, livestock merchandising, and more. 
After graduation, Willert aims to work in agricultural policy and hopes to be a voice for the agricultural industry and educate legislators about agriculture's vitality.
Follow along with Willert on Instagram @cattle_chats and Facebook at Cattle Chats with Kes!
Hammer is attending the University of Minnesota Crookston, and is studying to obtain a degree in animal science and agriculture business. Hammer grew up on a farm in Todd County, Minnesota where she raised many animals including dairy and beef cows, sheep, goats, pigs, and small animals such as rabbits, ducks, and chickens. Hammer's family also raises crops to support the animals that they raise. "I love learning and teaching about agriculture, so The Herd is a great opportunity" stated Hammer.
Hammer's passion for agriculture began on the farm but grew immensely when she realized not all individuals have a basic understanding of agriculture. Hammer said "I would like to think that if people knew more about where their food comes from and where their supplies are produced, they may have more of an appreciation for it, and the world would in turn be a better place! I want to be the person who helps the public learn more about agriculture!"
Throughout the year Hammer will share agriculture content and will be able to advocate for the betterment of agriculture.
Follow along with Hammer on Facebook and Instagram @TheMidwestAgvocate!
Jacob Runge, originally from Saint James, will be starting his second year at Ridgewater College this fall studying farm operations & management. Once he graduates in the spring, he will return home to help on his family's farm where they raise corn, soybeans and finish hogs. 
Runge is involved in his community, especially with the Watonwan County 4-H program. He is also a Watonwan County Corn and Soybean Growers member and a member of the St. James FFA Chapter. Runge says "4-H has taught me many life skills that I will use in my profession, such as networking, public speaking, and dedication." 
With 4-H being a large factor in the way he was raised, Runge was introduced to FFA which also became a big part of his life. This led to him serving in FFA officer positions, allowing him to take state and national FFA Trips. 4-H continued to open doors for other opportunities such as Runge being a member of numerous judging teams. 4-H and FFA, along with his parents' influence, ultimately led Runge to Farm Bureau and associated programs.
Follow along with Runge on Instagram @04farmboy!