Jeff Pagel Named District I Director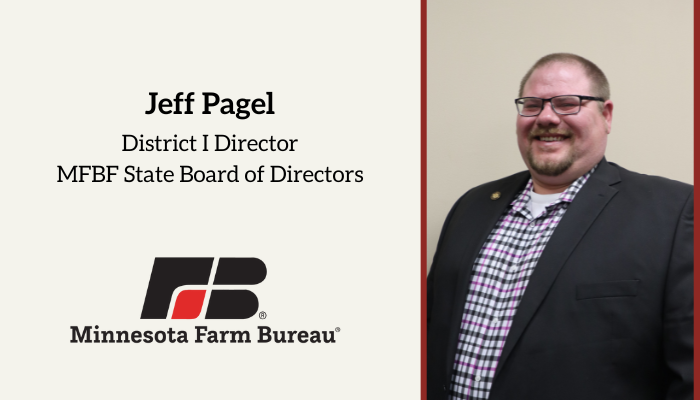 Dairy farmer Jeff Pagel of Eyota in Olmsted County has been elected to the Minnesota Farm Bureau Federation (MFBF) Board of Directors as the Director for District I after a special district caucus held on March 3. 
Pagel assumes the role immediately and will hold the position until November and the MFBF Annual Meeting, when there will be another district caucus to fill the director role for one year of a three-year term vacated by previous director Keith Allen. Allen resigned from the role after accepting a new job with the office of Rep. Brad Finstad (MN-01). 
"Farm Bureau has provided me with many opportunities and I am excited to give back to the organization in this new role," said Pagel. "I'm excited to take the leadership skills I have learned and put them into action representing members in my district."
A third-generation dairy farmer, he works alongside his wife Chandra, parents, brother and sister-in-law and niece to milk dairy cows and farm 350 acres. 
Pagel is also a third-generation Farm Bureau member, with his entire family active at the county, state and national level. Most recently he was the winner of the 2022 MFBF Young Farmers & Ranchers (YF&R) Discussion Meet, advancing to represent Minnesota during the national competition this past January. Previously, he was a member of the state YF&R committee, including serving as chair in 2017-18. He has also taken part in many leadership activities offered through Farm Bureau, including Day on the Hill, Farmers to D.C., leadership conferences and serving on the state resolutions committee. 
Outside of Farm Bureau, Pagel is a member of the Holstein Association where he serves as the local president, and is also on the local Dairy Herd Improvement Association (DHIA) Board. He has also served on the Minnesota Beef Council, and is a past 4-H and FFA member, and continues to support both organizations.
Also running was Scott Winslow of Fillmore County.