Kevin Paap Receives Distinguished Service Award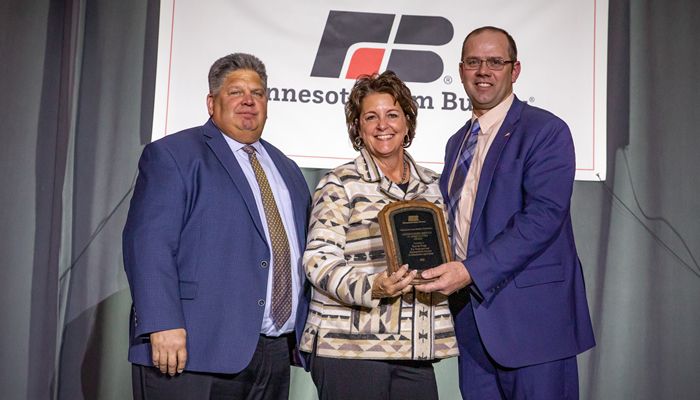 Kevin Paap of Blue Earth County received the Minnesota Farm Bureau Distinguished Service to Agriculture Award at the organizations 104th Annual Meeting Awards Banquet Nov. 18 in Bloomington.
A lifelong Farm Bureau member, Paap is a true testament of service to the Farm Bureau organization and agriculture. He served as MFBF Vice President from 1999-2005 before being elected the organization's 13th president in 2005, a role he held for 16 years. In addition to leading the state organization, Paap also held key positions on the national level at the American Farm Bureau Federation, including as an AFBF Board Member from 2012-21 and serving on the Trade Advisory Committee from 2013-17, including being named Chairman from 2015-17.
Outside of Farm Bureau, Paap served as president of the Minnesota Soybean Growers Association, and played a role on many boards and committees including the Minnesota FFA Foundation, Center for Rural Policy and Development, National Children's Center for Rural Health & Safety, and Farm Safety 4 Just Kids.
He has been recognized for his commitment to agriculture by the University of Minnesota College of Food, Agricultural and Natural Resource Sciences, both Minnesota 4-H and FFA, University of Minnesota Extension and Minnesota Soybean Growers Association. At last year's MFBF Annual Meeting, Governor Tim Walz proclaimed Nov. 21, 2021 Kevin Paap Day in recognition of his service.
Kevin and his wife Julie have been married for 38 years and are the fourth- generation owner and operators of the Paap Family Farm in Blue Earth County where they raise corn and soybeans. Together they have two children, Matthew and Andy. Matthew resides in Mankato and Andy lives on the farm with his wife Samantha and farms alongside his father.