MFBF Receives New Horizon Award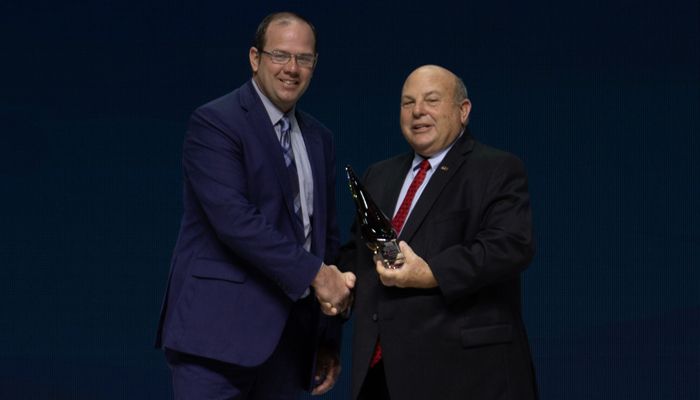 The Minnesota Farm Bureau Federation (MFBF) was one of six states to receive the New Horizon Award, presented during the American Farm Bureau Federation's (AFBF) 104th Convention in San Juan, Puerto Rico. 
The New Horizon Award honors the most innovative new state Farm Bureau programs. Minnesota was recognized for its interactive ag literacy exhibit at the Minnesota State Fair. 
"It was a team effort, from our county Farm Bureaus to the Promotion & Education Committee, state Board of Directors and staff who helped our vision come to life," said Foundation Director Ruth Meirick. "I am grateful for everyone who helped make this possible and bring this special honor back to Minnesota."
MFBF redesigned its building at the Minnesota State Fair in 2021, bringing a "Farmers Produce more than Produce" theme to connect and tell the story of agriculture in the state to fairgoers of all ages. 
In the first year, over 55,000 people engaged with the display, providing opportunities for attendees to gain a different perspective on agriculture, and think about their connection to agriculture beyond food. The exhibit also provided MFBF members and volunteers an opportunity to speak with consumers and share their personal agriculture story.  
When displays are not being used at the state fair, they move between agriculture interpretive centers and schools across the state.  This allows the exhibits to have a broader use during classroom visits and special events throughout the year.  It has also evolved into smaller-scale ag literacy collateral that can be used by county Farm Bureaus, Ag Interpretive Centers and other state Farm Bureaus.
Also receiving the award were Delaware, Florida, Illinois, Kansas and New York.  
Minnesota was also one of 33 states to receive the Award of Excellence for demonstrating outstanding achievements in four program areas: Advocacy, Coalitions & Partnerships, Engagement & Outreach and Leadership & Business Development.