MFBF Sets 2023 Priority Issues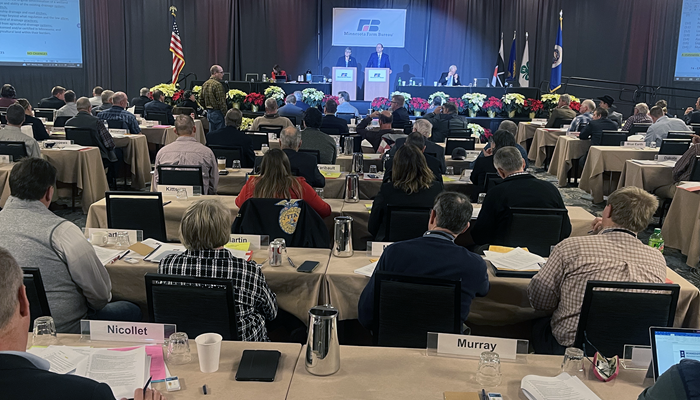 The Minnesota Farm Bureau Federation (MFBF) Board of Directors recently set its 2023 legislative session priority issues at the conclusion of the organization's 104th Annual Meeting. The issues are established from Farm Bureau grassroots policy set by MFBF members based on current events impacting agriculture and rural Minnesota.
"The strength of Farm Bureau lies in its members and our policy development process," noted MFBF President Dan Glessing. "Our delegate session, where we discuss issues surfaced by our counties, helps us identify what's most important to keep agriculture thriving in our state."
While Farm Bureau works on behalf of its members on a variety of issues, the following will be priorities during the next legislative session: 
Beginning and Emerging Farmers – Support the next generation and those interested in entering agriculture.
Clean Energy and Sustainability – Further development of renewable fuel, additional alternative energy sources and improving our environment through voluntary climate-smart practices.
Healthcare Accessibility – Work towards increased availability and affordability of health insurance, healthcare and mental health resources. 
Research and Investment – Drive the future of agriculture through practical research, education and innovation.
Rural Connectivity – Ensure broadband and cellular service meets the needs of increased technology demands in agriculture.
Rural Vitality – Strengthen our communities by addressing needs around childcare, workforce development and infrastructure. 
"We're looking forward to the start of the legislative session in January, and engaging in conversation with policymakers," said Glessing. "Our members are excited to share their stories."
Nationally, the Minnesota Farm Bureau will also work to support the following principles in guiding the development of programs in the next Farm Bill:   
Maintain funding commitments to current farm programs;
Maintain a unified farm bill which includes nutrition programs and farm programs together; and
Prioritize funding for risk management tools which include both federal crop insurance and commodity programs.