Members Attend Farmers to Washington D.C. Trip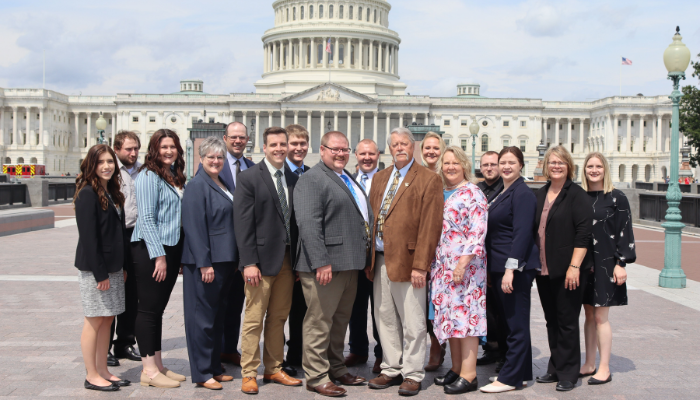 Fourteen Farm Bureau members from across the state met with their local legislators during the Minnesota Farm Bureau Federation's (MFBF) Farmers to D.C. trip June 6-9. Members who attended the trip were Debra and Delvin Durheim of Todd County, Trent and Ashle Benson of McLeod County, JoAnn and Wilson Gratz and Amber Willis of Kandiyohi County,  Lester and William Golombeicki of Stevens County, Catie Schmidt of Steele County, Jeff Pagel of Olmstead County and Justin Crowley of Washington/Ramsey County. Minnesota Farm Bureau President Dan Glessing and Vice President Carolyn Olson also attended the trip.
Throughout the week, members met with Senators Amy Klobuchar and Tina Smith, Representatives Emmer and Fischbach and staff from the offices of Representatives Craig, Phillips and Stauber as well as the Senate and House Agriculture Committees. The group also met with staff from American Farm Bureau, U.S. Grains Council and the National Council of Farmer Cooperatives to discuss the work the organizations are doing at the federal level. 
While meeting with the legislators, attendees discussed Farm Bureau priority issues which include addressing supply chain issues, sustainable practices, workforce development, strengthening rural communities, healthcare and continued research and investment to drive the future of agriculture.
"Having our members engage with their elected officials and the Senate Agricultural Committee is an important part of our Farm Bureau policy process," explained MFBF President Dan Glessing. "These opportunities give our members a chance to build relationships and share their personal stories." 
 If you are interested in attending the Farmers to Washington D.C. trip, visit https://fbmn.org/Minnesota-Farm-Bureau/Participate/Advocacy/Farmers-to-DC. The next trip will be held Sept. 12-15 and registration closes on July 13.