Rep. Rod Hamilton and Ed Terry Receive Distinguished Service to Agriculture Award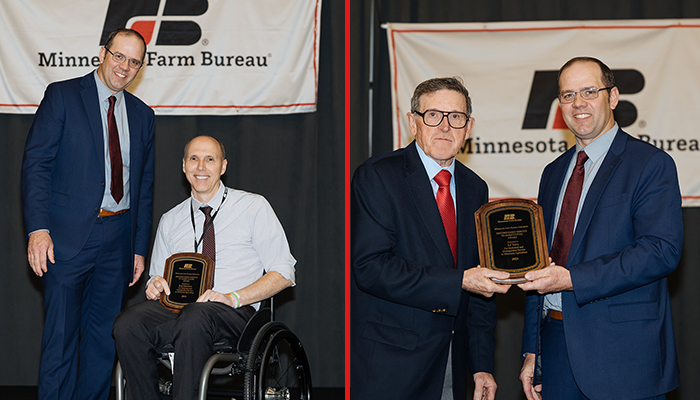 Former state Representative Rod Hamilton and former Randolph FFA Advisor Ed Terry received the Minnesota Farm Bureau Distinguished Service to Agriculture Award at the organization's 105th Annual Meeting Awards Banquet Nov. 18 in Bloomington.
Hamilton served as a voice for Minnesotans and agriculture in the Minnesota House of Representatives from 2005 until his retirement earlier this year. He found his passion for agriculture working at Christensen Farms, working his way up from a herdsman to holding several different roles in the organization. His involvement both with Farm Bureau and the Minnesota Pork Producers Association provided a catalyst for his involvement not only advocating for agriculture, but also playing a role in the development of policy. Elected to the House of representatives in 2004, he served on a variety of agriculture committees including: Ways & Means - Agriculture and Food Finance & Policy Division; Chair of Agriculture Finance; Agriculture Policy; Environment, Natural Resources and Agriculture Finance; Chair of Agriculture and Rural Development Policy and Finance; Agriculture, Rural Economies and Veterans Affairs; and Agriculture and Rural Development. He also was a member of the Minnesota Governor's Livestock Task Force.
Hamilton's Farm Bureau experience was plentiful, taking part in many Day on the Hill and Farmers to D.C. trips. He was also the winner of the Young Farmers & Ranchers Discussion Meet competition in 2001.
He and his wife Lynee live near Mountain Lake and have two children, and are active in giving back to their community.
Ed Terry built a career in agriculture and education. He retired after teaching agriculture and serving as an FFA advisor for 51 years. He started teaching in Farmington in 1968. In 1977, he started an ag/FFA program in Randolph. His program included students from a co-op program with Northfield, launched in 1994, and students from an evening outreach program he started in 1997, serving seven other schools where ag/FFA were not offered. More than 50 of his students earned their American FFA Degrees. Terry holds both State and American Honorary FFA Degrees and is in the Minnesota FFA Hall of Fame.
Terry's impact reaches beyond the classroom. He was a township supervisor for 12 years. He served on the Minnesota Forage and Grasslands Council board for nine years, two terms on the Dakota County Extension Committee and 33 years on the Rosemount Experiment Station Advisory Committee. He was named Outstanding Ag Educator by the Minnesota Association of Agricultural Educators in 2019 and the Minnesota Farm Bureau FFA Advisor of the Year in 1998. In 1995, he, his wife Carol and brother David were the Dakota County Farm Family of the Year. He received the Lifetime Achievement Award from the U of M College of Food, Agricultural and Natural Resource Sciences. He currently serves on the Dakota County Farm Bureau board and has been an active member for over 50 years.
Married for 53 years, Ed and Carol have two children: Lisa and Mike. Ed and Carol reside on and farm the sesquicentennial farm east of Northfield. Lisa, her husband Todd and two sons live in Forest Lake. Mike farms on the family farm and lives nearby with his son.