The 'Buzz' about the Hewitt Family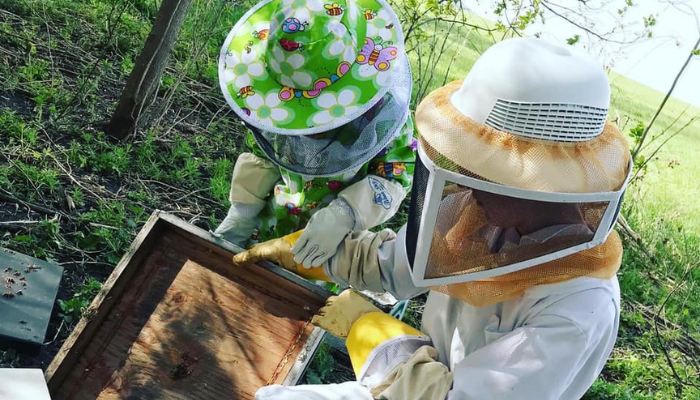 Tucked away in Kilkenny,  the Hewitt family has used their connections made through Minnesota Farm Bureau to kickstart their business, Sweet Cheeks Honey.
In 2014, Mark and Sara Hewitt began taking beekeeping classes offered by the University of Minnesota to better understand the art of beekeeping. Shortly after these classes, they applied for the Minnesota Department of Agriculture Value Added Grant to start their beekeeping journey. They began with two hives and have expanded exponentially since then.
To aid in the pollination process in the local area, they have taken the bees to the Montgomery Orchard and other locations to pollinate the trees for one to two weeks. One hive has a two-to-five-mile radius to feed from blooms as bees prefer certain types of blooms over others. During the summer months, a hive is occupied by 80,000 -100,000 bees. The Hewitt's now manage five hives produce about 400 pounds of honey per year, which is harvested in early September. Although beekeeping is a lot of work and upkeep, Mark and Sara love to involve their two children, Harper and McCoy, and teach them about different responsibilities on the farm.
Outside of their busy farm life, Mark and Sara are very active within Le Sueur County Farm Bureau and their local community. Sara served on the committee for rural broadband, and she is currently on the School Board and PTO at her daughter's school. Mark is on the local fire department. In January, the couple represented Minnesota Farm Bureau at the AFBF National Convention as top-ten finalists in the Excellence in Agriculture competition. The two were recognized for their work in consumer education and farm safety initiatives, training the local fire department in grain bin safety measures.