Top Ten Must See Ag Attractions at the MN State Fair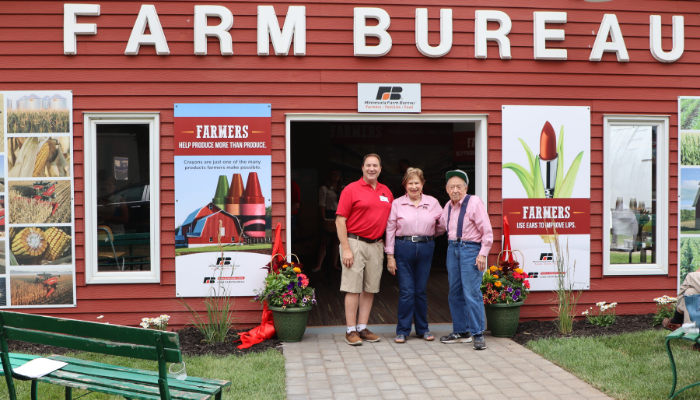 You don't have to search hard to find agriculture at the Minnesota State Fair. It seems that at every corner you can find some sort of agriculture. Here are top ten must-see agriculture exhibits at the MN State Fair.
10. The Butterheads
Each year, ten dairy princesses from across the state vie for the title of Princess Kay of the Milky Way. As a reward for their hard work representing Minnesota's dairy industry, the ten finalists receive a 90-pound block of butter with their head carved into it. Stop by the dairy building to check it out!
9. "Brewed in Minnesota" Exhibit
The Minnesota Craft Brewers guild is once again having their own exhibit in the Horticulture Building at the State Fair. The exhibit features craft beer, agriculture and all the people behind the beer. Be sure to stop in and taste a few of the delicious and local Minnesota brewed beers.
8. CHS Miracle of Birth Center
Have you ever been to the state fair's most popular attraction? Stop by the (CHS) Miracle of Birth Center to see live births of different livestock species including cows, pigs, sheep, goats, chickens and ducks! Each year, more than 200 live births take place.
7. Thank A Farmer Magic Show
When you are finished seeing the live births check out Christensen Stage to see one of the many great shows. The Thank A Farmer Magic Show is an engaging show for youth that outlines the important role that farmers and ranchers play in the production of food, fuel and fiber. The show takes place all twelve days of the fair at 11 a.m., 1 p.m. and 3 p.m.
6. Kemps Little Farm Hands
Kemps Little Farm Hands is another free exhibit for kids ages 3-10 where they can experience the entire agricultural process. The activity begins on the farm and finishes at the market. This is a must for children!
5. Harvesting Honey Exhibit
Each day at 2 p.m. the Harvesting Honey Program takes place in the Agriculture and Horticulture Building, highlighting the extraction and processing of raw honey. While you are there, check out the many products that are made from honey and take a few treats home to enjoy.
4. Llama-Alpaca Costume Contest
This is something you do not want to miss. In this show, 4-H exhibitors and their llamas and alpacas compete in unique costumes. Some previous costumes included Bob Ross, Star Wars, Disney Princesses and so many more. This event takes place in the Warner Coliseum on Sept. 1 at 6 p.m.
3. Livestock Barns
Throughout the entire fairgrounds there is an array of different animals. From cows and horses to chickens and rabbits there is something for everyone. Take this opportunity to talk to exhibitors about their animals and learn more about their projects.
2. Moo Booth
Throughout the fair you'll find various species such as the Oink Booth and the Baa Booth. The Moo Booth is unique as it has its own stage. Each day you can see milking demonstrations at 10 a.m. Stick around to watch the Agri-lympics where local celebrities compete in various agriculture related competitions including animal calling, wool packing, cow milking and even butter carving!
1. Minnesota Farm Bureau Building
The Minnesota Fam Bureau Building at the state fair is an experience like no other. Visitors can see how agricultural production goes beyond the food on your plate with our "Farmers Produce more than Produce" display. Use 2D glasses to see products beyond your food that come from farms, scan grocery store items to learn more about Minnesota products, and test your agriculture knowledge with our trivia arcade games.
The Minnesota State Fair runs from August 25 to Sept. 5. Check the Minnesota State Fair website to see daily activities on the grounds.