Priority Issues
Hearing and sharing the voices of our nearly 30,000 members is essential in driving meaningful change in policy on the local, state and national levels. 
Our grassroots efforts highlight concerns important to those involved in agriculture, what is needed to help them succeed, and helps set the foundation for our work on a wide variety of issues. 
---
State Policy
Issues surfaced by our member counties help raise awareness around actionable items necessary to keep agriculture and Minnesota thriving. Based on those issues, our board of directors sets priority issues each year. While MFBF advocates on behalf of its members on a wide variety of issues, setting priority issues helps focus our efforts.
Here's a look at our 2022 accomplishments at the state level: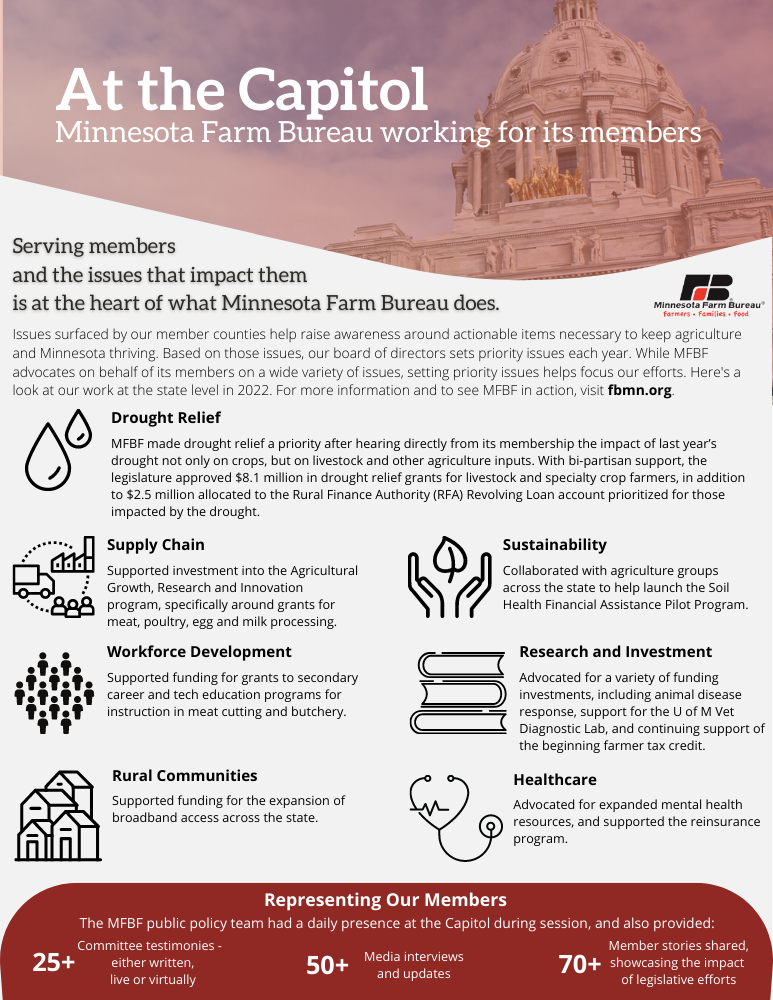 Below were the six priority issues for the 2022 state legislative session, as set by the MFBF Board of Directors:
Supply Chain: Address food and agriculture supply chain challenges both in the short- and long-term to ensure access to markets and a safe and secure food supply for everyone.
Sustainability: Lead the way in climate-smart practices that improve our environment through voluntary stewardship, including the increased use of renewable fuels that reduce emissions and investments into continued soil health practices.
Workforce Development: Build a strong workforce to address ongoing labor needs, including through career and technical programs.
Rural Communities: Strengthen our rural communities by investing in infrastructure, ensuring reliable broadband, and increasing the availability of childcare.
Healthcare: Work towards increased affordability and availability of health insurance and healthcare – including mental health resources.
Research and Investment: Drive the future of agriculture in Minnesota through research, innovation and investment. 
---
National Policy
Farm Bureau works on federal legislative and regulatory issues that affect farmers and ranchers. 
2023 Farm Bill: Hold conversations to set the stage for a bipartisan Farm Bill. 
Agricultural Labor: Pass meaningful legislation that helps farmers and ranchers meet their labor needs specifically through updates to the H2A program. 
Regulations: Address specific regulatory challenges impacting farmers and ranchers including the Navigable Waters Protection Rule, Endangered Species Act and Renewable fuels. 
Supply Chain: Support infrastructure investments and other opportunities that will support long-term growth in production, processing, trade and distribution. 
Trade: Protect and expand trade opportunities for U.S. agriculture through existing trade partners and new trade relationships. 
Learn more about federal issues on the AFBF website.