2022 Sesquicentennial Farm Recipients Announced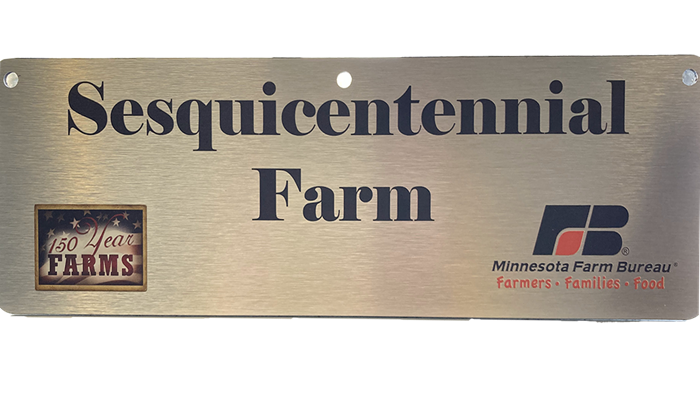 The Minnesota Farm Bureau Federation (MFBF) is pleased to recognize 36 recipients of the Sesquicentennial Farm award for 2022.  
To qualify, a family farm must be in continuous family ownership for at least 150 years, be 50 acres or larger, and currently be involved in agricultural production.  
A commemorative certificate signed by Governor Tim Walz, Minnesota Department of Agriculture Commissioner Thom Petersen and MFBF President Dan Glessing will be awarded to qualifying families, along with an outdoor sign signifying Sesquicentennial Farm recognition.  
Anoka
Lino Lakes – All Good Organics, 1866
Becker
Lake Park – Anderson Farm, 1871
Brown
Hanska – Frank Lee Farm, 1871
New Ulm – Milford East, 1872
Sleepy Eye – Loran, Heidi, Adam, Maggie and Gracie Sellner, 1868
Cottonwood 
Revere – Peder Enstad Homestead, 1871
Dakota
Northfield – Terry Family Farm, 1871
Randolph – Childs Family Farm, 1856
Faribault
Blue Earth – Hannaman, 1870
Freeborn
Glenville – Kalstad Farm - Jack and Natalie Thompson, 1865
Hartland – Johnson Family Farm, 1868
Goodhue
Cannon Falls – Oak Park Farm, 1872
Cannon Falls – Scott and Tesha Johnson Family Farm, 1856
Goodhue – Amundson, 1872
Goodhue – Justin and Nikki Meyer, 1872
Goodhue – Klair Family Farm, 1868
Kenyon – Mattson Family Farm, 1872
Welch – Berg Ridgeview Farm, 1872
Lac Qui Parle
Montevideo – Johnson Farm, 1872
Le Sueur
Madison Lake – Schickling Farm, 1861
Lyon
Minneota – Southview Farm, 1871
McLeod
Glencoe – Cohrs Family Farm - Kevin and Darla Cohrs, 1871
Mower
Austin – Bell Farm, 1859
Nobles
Rushmore – Petersen Farm, 1871
Norman
Shelly – Holte Farms, 1872
Otter Tail
Rothsay – Bruce and Kim Brenden, 1871
Redwood
Springfield – Dan and Rita O'Callaghan, 1871
Rock
Luverne – Mary Chesley, 1872
Scott
Belle Plaine – Gerald H. Nagel, 1870
Belle Plaine – Judith A. Nagel, 1868
Stearns
Richmond – Scott and Kathleen Schaefers, 1861
Watkins – Rausch, 1872
Waseca
Janesville – Conway Century Farm, 1869
Janesville – Johnson Farm, 1859
New Richland – The Sunde Family Farm, 1856
Wright
Montrose – McGrath Family Farm, 1869