At the Capitol: March 20-24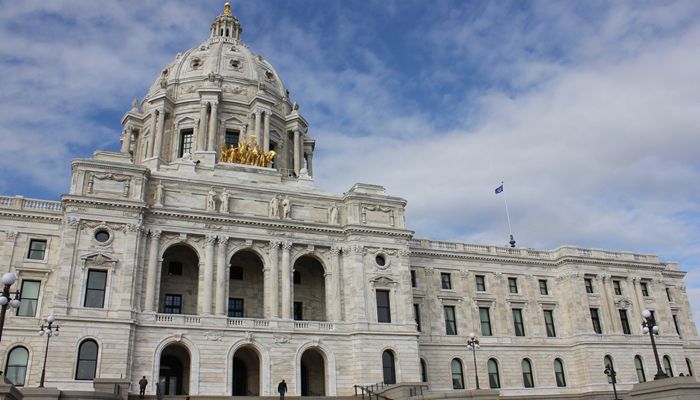 Each week during the Minnesota legislative session, the Minnesota Farm Bureau will highlight its work with elected officials to support our members and agriculture. While we advocate for our members on a wide variety of topics, our Board of Directors set six priority issues for the 2023 state legislative session, and our efforts to advance those issues are highlighted below.
Recap: Week of March 20-24
Our public policy team and leadership has been connecting with elected officials and other policy influencers to share our member's stories, and build relationships to reinforce our position as a leader in agriculture issues in Minnesota.
MFBF also returned to the Capitol for the first time in three years for its annual Day on the Hill. Over 130 members shared agriculture's message with legislators from across the state. MFBF President Dan Glessing also had the opportunity to speak in front of the House Agriculture Committee on the importance and impact of the industry in the state. 
Here are the bills that moved through this week:
HF127 (Burkel) Wolf and elk depredation payment funding provided, and money appropriated: This bill provides funds to the Minnesota Department of Agriculture to give payments to farmers who suffered loss of livestock from wolves or elk. This bill was laid over for possible inclusion into a larger omnibus package. MFBF supports this bill; District 6 Director Miles Kuschel provided testimony.
HF1317 (Hansen) Terms defined; Use, storage, disposal, and sale of pesticide-treated seed regulated; label statements for pesticide-treated seed required; consumer guidance required; rulemaking required; and money appropriated: This bill establishes treated seed as a solid waste and gives rulemaking control to the Minnesota Pollution Control Agency. MFBF opposes this bill; Director of Public Policy Pierce Bennett provided testimony.
SF0333  (Dahms) Portability of the deceased spousal unused exclusion amount provision: This bill implements portability into the MN estate tax law, that in the event a spouse dies, the surviving spouse may use the unused exemption as well as his or her own exemption. MFBF Supports this bill; Public Policy Specialist Kaytlin Bemis provided testimony.
HF2861 (Vang) Minnesota dairy farmer grants funding provided, and money appropriated: This bill funds the Dairy Assistance, Investment and Relief Initiative. MFBF Supports this bill; District 1 Director Jeff Pagel provided testimony.