MFBF 102nd Annual Meeting Recap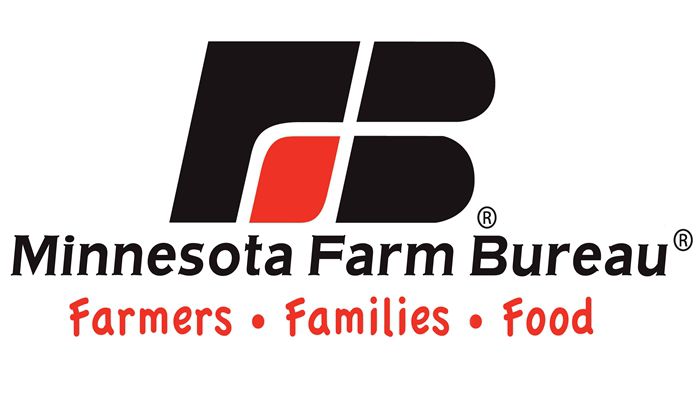 Nearly 140 Farm Bureau members from across the state attended the Minnesota Farm Bureau Federation (MFBF) Annual Meeting, December 11 via Zoom.
Voting delegates representing all 78 county and regional Farm Bureaus met via Zoom for the 102nd Annual Meeting of the Minnesota Farm Bureau Federation on December 11 to conduct the annual business meeting.
Farm Bureau Voting Delegates Re-Elect Dan Glessing
County voting delegates re-elected Dan Glessing to a two-year term as MFBF Vice President. Re-elected to a three-year term to represent District III was Carolyn Olson of Cottonwood in Lyon County, Nathan Collins from Murdock in Swift County representing District IV and Shayne Isane of Badger in Northwest Regional representing District VII.
Elected to the board of directors serving one-year terms were Promotion & Education (P&E) Committee chair, DiDi Edwards, from Nobles County and YF&R Committee chair Tyler Nelson from Pine County.
MFBF Honors Agricultural Leaders
The Distinguished Service to Agriculture award was presented to Chris Radatz – retired Minnesota Farm Bureau Executive Director of seven years and served 44 years with the Minnesota Farm Bureau.
Honorary Life awards were bestowed upon Jim and Liz Foss – Goodhue County and Les and Ginny Anderson – Martin County.
Two $500 Al Christopherson Scholarships were presented to Hannah Neil from Dakota County and Maddie Smith from Fillmore County.
Two $500 Paul Stark Scholarships were presented to Kendra Waldenberger from Houston County and Kate Lorang from Renville County.
The most prestigious county Farm Bureau award, the Counties Activities of Excellence, was presented in five key areas – Public Policy, Public Relations, Promotion & Education, Leadership Development and Membership Activity. Counties that excelled in all five areas receive the Premier Awards: Anoka County, Beltrami County, Cass County, Headwaters Regional, Kandiyohi County, Wabasha County, Washington/Ramsey County, Winona County and Wright County.
YF&R Awards
Maddie Weninger of Wright County took first place in the Discussion Meet and Lucas and Alise Sjostrom of Stearns County won the Excellence in Agriculture contest. These members will advance to the national competition.