MFBF Hosts Annual Council of County Presidents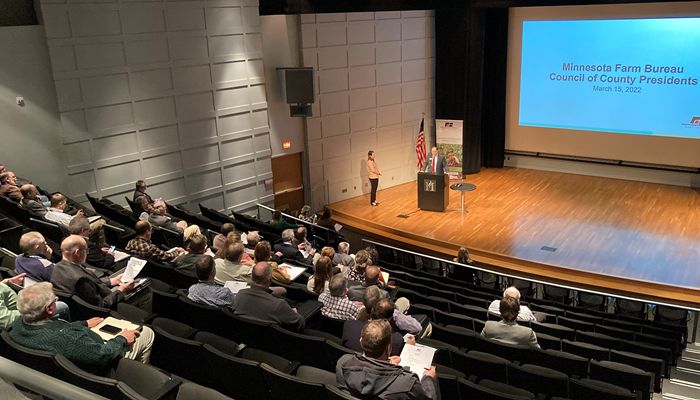 The Minnesota Farm Bureau Federation held its Council of County Presidents meeting on March 15 at the Minnesota History Center in St. Paul.
Farm Bureau leaders, elected and appointed officials attended the annual gathering, bringing together members for a day of professional growth, organizational learning and networking. 
Highlights from the day included an organizational update from President Dan Glessing and Executive Director Karin Schaefer, insurance updates from Farm Bureau Financial Services leadership and a communications overview by Communications Manager Rachel Reisig. Special guest Elise Cruce from the American Farm Bureau Federation also provided a leadership growth opportunity, presenting on how leaders can embrace the different generations among its members. 
Afternoon programming featured guest speakers Keith Oleander, Executive Director of Farm Business Management, a political discussion led by Blois Olson and a message from Minnesota Commissioner of Agriculture Thom Petersen. The MFBF public policy team wrapped up the speaker portion with an update on Farm Bureau policy priorities.
County leaders then enjoyed a social hour and dinner with elected and appointed officials.
Visit our Facebook page for more photos from the event.