Pam Uhlenkamp Named Post-Secondary Agriculture Educator of the Year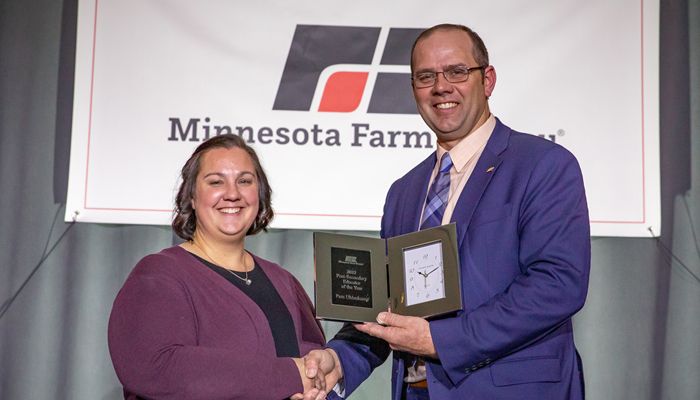 Pam Uhlenkamp of South Central College was named the 2022 Minnesota Farm Bureau Post-Secondary Agriculture Educator of the Year during the organization's 104th Annual Meeting on Nov. 18 in Bloomington. 
Pam has worked in the Farm Business Management program at South Central College in 2010. Over the past 12 years, Pam has had many opportunities to speak about farm financials, transition planning and basic record keeping to various organizations. Currently, she works with 47 farm families who are enrolled in Farm Business Management (FBM). In addition to being an FBM instructor, Pam also serves as the assessment coordinator at South Central College. In that role, she works with all 13 instructors to complete their student assessments and records their data into a group database. She then uses the data to plan, adjust and review the curriculum for the students at the college.
Pam is also involved in many organizations outside of her work. She has been an active member of the Sibley County Farm Bureau since 2010 and currently serves as president. In the past, she also served on the state YF&R Committee as chair. Pam is also involved with her local 4-H club, FFA chapter and church. She serves on the Minnesota Dairy Initiatives board, TransFARMation radio program advisory committee and as the Sibley East FFA Alumni Charter chair. 
Pam and her two children live in Green Isle.