Farm Safety
Farm Bureau promotes safety and health in agricultural and rural communities to reduce the number of farm work-related injuries and deaths by promoting safe practices and increasing public awareness of the importance of safety and health in agriculture.
County Farm Bureaus participate and host activities like farm and home safety forums for youth and adults, farmer and community wellness events on topics like mental health and opioid misuse and health fairs. Safety is an important topic every day of the year. 
In 2021, 110 of our members volunteered to educate Minnesotans about the importance of farm safety. Through those events, over 2,000 youth and 200 adults heard the important message.
Contact Education Coordinator Pam Debele to learn more about bringing ag, home or community safety programs to your school or organization.
---
Youth Safety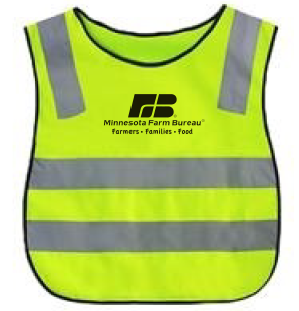 Help promote safe practices on the farm by keeping future farmers more visible. 
The Minnesota Farm Bureau Young Farmers & Ranchers Committee is offering children's safety vests for purchase. Each vest costs $5 and can be worn over clothing in any season. The vests also help encourage daily conversations about the importance of farm safety with youth, promoting safe farming practices from an early age. 
---
Safety Videos